Quick Links to Best Prices Price History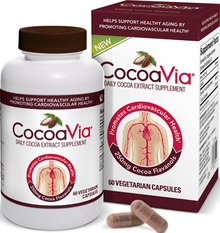 CocoaVia Beverage Mix Unsweetened Dark Chocolate Description
Flavored Mix
Daily Cocoa Extract Supplement
Helps Support Healthy Circulation
250 mg Cocoa Flavanols (the most important of which is epicatechin, which you can read about on the PricePlow blog)
Help support healthy circulation from head to toe.
When you feel your best, you feel ready for anything. That's why maintaining healthy circulation is so important. Your heart, brain, skin- even exercise performance - all depend on a healthy circulatory system for support. But as you age, your blood vessels may become less flexible and less able to expand when needed to keep circulation running smoothly.
Fortunately, there is nature's unexpected superfruit - cocoa. Specifically, the phytonutrients called cocoa flavanols found naturally in the cocoa bean. In fact, the secret to the health benefits of dark chocolate is in the cocoa flavanols, not how dark the chocolate is.
Have you had your cocoa flavanols today?
Get more out of life. Every way you can. Every day you can. Help keep your circulatory system healthy with CocoaVia daily cocoa extract supplement. Cocoa flavanols are scientifically proven to help support healthy circulation by helping your arteries stay flexible at any age.
Directions
Add 1 packet to beverage or food of choice, such as 8 oz of cold or hot milk or coffee, yogurt, or oatmeal. Stir vigorously until well mixed. Free Of Artificial colors or flavors and added sugar. Disclaimer These statements have not been evaluated by the FDA. These products are not intended to diagnose, treat, cure, or prevent any disease. Supplement Facts