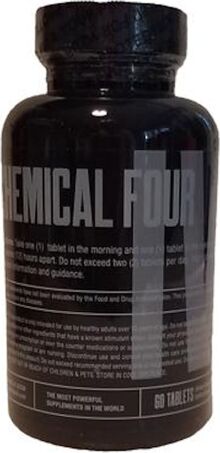 Chaos and Pain Chemical Four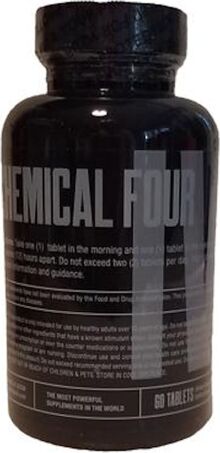 Chaos and Pain Chemical Four
Chaos & Pain Chemical Four
If your goal is to put on tons of muscle and be stronger than ever before you need to get the right anabolic/ androgenic ratio. If you are too far on either side of the spectrum your cycle could turn out to be a total waste of time or a side-effect nightmare. Chemical Four will help you maximize gains without the side effects by creating the perfect hormonal balance to ignite muscle growth and increase strength.
In order to help you bust the sleeves off your shirts Chaos and Pain utilized a blend of the highest quality forms of 4-DHEA available anywhere. 4-DHEA is a legal prohormone that converts to testosterone through a two-step conversion process. What makes Chemical Four so effective is its ability to deliver nearly 99% of the active compounds into the blood stream. Until recently it has never been possible to come close to reaching these levels of absorption. With the revolutionary development of Cyclosome Delivery Technology you can now realize the full potential of prohormones like 4-DHEA.
Chemical Four Is The Most Effective Supplement Available for Realizing Your True Strength & Mass Potential.
4-Andro
4- Andro is a 2-step precursor to testosterone. 4-DHEA also lacks the calorie burning thermogenic properties, therefore offering superior calorie retention for a bulking effect. This increased anabolic potency and reduced thermogenic action leads to noticeable gains in strength, lean muscle tissue growth, and weight gain.



Incredible strength and lean mass gains have been reported with 4-Andro and it can be stacked with almost any compound to further expand the mass building capabilities. Both experimental and anecdotal evidence supports 4-Androstenolone's ability to raise testosterone levels and improve performance.
Fadogia Agrestis
This natural plant extract has the ability to significantly raise free testosterone production and provide a major increase in libido. A study on the effects of Fadogia noted that it caused an increase in the concentration of cholesterol in the testicles of the test subjects, which means the Leydig cells were actively gathering cholesterol to make testosterone. men age, the Leydig cells activity decreases, putting a strain on the pituitary gland. In turn, this will cause low levels of testosterone production. When the leydig cells are stimulated, the pituitary can begin to function at a normal pace and your body will produce a higher concentration of both free testosterone and total serum levels.
Epicatechin
This flavonoid exibits strong antioxidant properties, acts as an insulin-mimicker, and most importantly inhibits myostatin. Myostatin essentially acts as a muscle growth regulator, and prevents muscles from growing too big too fast. Epicatechin has been scientifically proven to provide substantial increases in lean muscle mass, accelerated recovery, and enhanced endurance. Its one of the best natural substances available for putting on quality muscle mass.
6,7-dihydroxybergamottin (DHB)
A polyphenol found in grapefruit that is responsible for greater bioavailability of drugs after oral dosing. By using Cyclosome Technology we have optimized the absorption of Chemical Four into the bloodstream. Next, we included DHB which acts to prolong the activity of the active compounds by extending the half-life and duration within the bloodstream. Many studies on this natural extract show large increases in active concentrations within the blood when ingested with or around the same timeframe as the desired active compounds.