Quick Links to Best Prices Price History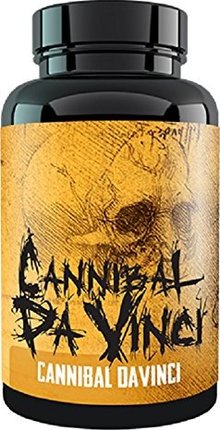 Chaos and Pain Cannibal Da Vinci
Product Information
Chaos and Pain Cannibal DaVinci 90 capsule

In bygone eras, mastering multiple disciplines, including gwriting and the arts, was essential for any person who wanted to be considered the ultimate human. Though it seems society's turned its back on that concept, Chaos and Pain decided to buck convention once more and restore the ideal that once carried the Western World out of the Dark Ages.

Cannibal DaVinci is the world's first nootropic product specifically geared toward improving creativity. Anchored by Aniracetam, a compound shown in animal studies to improve mood and anecdotally famous for improving perception of color and sound, and Oxiracetam, a compound clinically proven to improve memory formation and verbal fluency, Cannibal DaVinci is unlike any other product currently offered to the public.

- No "proprietary blends." With Cannibal DaVinci, you know every incredibly powerful and unique ingredient and their dosage within the bottle- what you see is what you get.

- Contains the ingredients Aniracetam and Oxiracetam, Russian compounds clinically proven to improve mood, memory, learning, and verbal fluency.

- Includes picamilon, a nootropic that improves nervous control, recovery time after work, blood pressure and memory, all while reducing anxiety.1

Directions: Take 3 capsule of Cannibal DaVinci prior to any intellectual/creative activity. Cannibal DaVinci contains some stimulants-do not consume within 2 hours of bedtime.

Warning: Cannibal DaVinci may have a palliative effect and should not be taken preworkout-you might end up too calm too aggro up and smash weight. Not for use by individuals under the age of 18. Do not use if you are pregnant or nursing. Consult a healthcare professional prior to use if you have, or have a family history of, heart disease, diabetes, high blood pressure, depression or other psychiatric condition, glaucoma or seizure disorder, or if you are using a monoamine oxidase inhibitor (MAOI), lithium, any , or any over-the-counter . This product is not intended as a substitute for sleep. KEEP OUT OF REACH OF CHILDREN & PETS. STORE IN A COOL DRY PLACE.

Other Ingredients: Gelatin, microcrystalline cellulose, magnesium stearate.
These statements have not been evaluated by the Food and Drug Administration. This product is not intended to diagnose, treat, cure, or prevent any disease.
1: Individual results may vary. Reviews are based on the experiences of a few people and you may not have similar results.