Warning: This product is not currently available at any store.
Click the button above and PricePlow will email you when the first store has it in stock!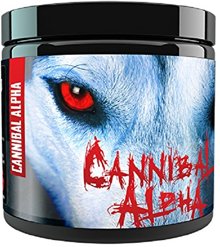 Chaos and Pain Cannibal Alpha
Product Information
Chaos and Pain Cannibal Alpha 360 capsule
Genghis Khan once said that "the greatest joy for a man is to defeat his enemies, to drive them before him, to take from them all that they possess, to ride their horses, and to hold their wives and daughters in his arms." In other words, the greatest joy in life for a man is to have such a surfeit of testosterone that women who bump into him spontaneously grow a beard.

This is why Chaos and Pain has created Cannibal Alpha- we want you to harness your inner Alpha and detroy the opposition in life and in the gym. To make this happen, we jammed Cannibal Alpha with every herbal libido and testosterone booster we could fit in it. Rocking a mix of DAA, tribulus, maca, betaine, terminalia arjuna, long jack, fadogia agrestis, curcumin, N-Carbamyl glutamate, bioperine, and zinc, you'll attack every day with your claws and teeth, the way it should be.

- Unprecedented natural spikes in testosterone
- Creates ravenous libidos
- Unconventional product for unconventional people

Directions: For daily testosterone boosting, take 6 capsules three time a day. For clothing optional recreation, take 8 to 10 capsules 30-60 minutes prior to zipper movement. To maximize effectiveness, cycle Alpha 4 weeks on / 2 weeks off.

Warning: Not for use by individuals under the age of 18. Do not use if you are pregnant or nursing. Consult a healthcare professional prior to use if you have, or have a family history of, heart disease, diabetes, high blood pressure, depression or other psychiatric condition, glaucoma or seizure disorder, or if you are using a monoamine oxidase inhibitor (MAOI), lithium, any , or any over-the-counter . This product is not intended as a substitute for sleep. KEEP OUT OF REACH OF CHILDREN & PETS. STORE IN A COOL DRY PLACE.

Other Ingredients: Gelatin, microcrystalline cellulose, magnesium stearate.
These statements have not been evaluated by the Food and Drug Administration. This product is not intended to diagnose, treat, cure, or prevent any disease.