Warning: This product is not currently available at any store.
Click the button above and PricePlow will email you when the first store has it in stock!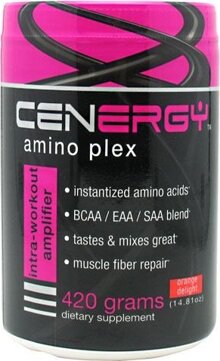 Cenergy Nutrition Amino Plex
AMINO-PLEX:
ENGINEERED TO PERFORM
Amino Plex is the most complete intra-workout recovery catalyst. Amino Plex will supply your body with ultra pure nutrients to drive you throughyour training session, while improving recovery time and endurance, no matter what sport...
INSTANTIZED AMINO ACIDS
BCAA / SAA / EAA MATRIX
TASTES & MIXES GREAT
ENHANCES PROTEIN SYNTHESIS
What is Amino-Plex?
AMINO-PLEX is a precise blend of amino acids, pharmaceutically formulated to increase performance.* Amino acids (BCAAs) are the foundation of repair and recovery in bodybuilding and athletic performance and support increased stamina and muscle fatigue reduction. Amino-Plex takes things a step further by adding HICA, a Leucine Metabolite, in combination to BCAAs. This will enhance the effects of the BCAAs, which will help aid in preserving lean muscle mass and creating a constant muscle building state in the body. Amino-Plex is also one of the few products on the market that helps in nitric oxide production while working out. A two-in-one combo, get nitric oxide effects while improving muscle recovery.*
"Amino-Plex by Cenergy provides essential branch chain aminos to create a complete package of nutritionally enhanced products.*

AMINO-PLEX is engineered to perform!!!"