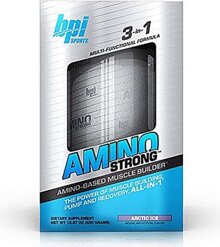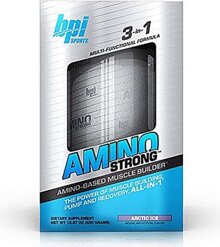 3-in-1 Muscle-Building, Pump & Recovery Formula! Increase Lean Muscle Mass! Boost Strength and Power While Preventing Muscle Breakdown! Enhance Recovery!
AMINO STRONG 3-IN-1 Multi-Functional Formula contains a unique blend of key ingredients to help you Build Lean Muscle Mass and Speed Recovery. AMINO STRONG features a 5-gram blend of Oligopeptide multi-chain Essential Amino Acids (EAAs) to Increase Muscle Protein Synthesis, Accelerate Recovery and Prevent Muscle Breakdown. Creatine, Betaine and Citrulline have also been included in this cutting-edge formula, to improve Strength, Power and Endurance during workouts. Along with the ogligopeptide- enzymatic technology, AMINO STRONG features a One-of-a-Kind Liposomal Delivery System so that your body is primed for faster and more efficient absorption. Use AMINO STRONG to elevate your Performance during your workouts and enhance recovery after.
BPI SPORTS' Multi-Functional Formulas contain a One-of-a-Kind delivery system to help you reap the maximum benefits from each product. This new, cutting-edge liposomal delivery system is designed to help enhance absorption rates and oral bioavailability. This natural encapsulation of lypophilic and hydrophilic nutrients, within liposomes, helps each ingredient bypass the destructive elements of the gastric system, therefore delivering nutrients to cells faster and more effeciently.
Amino-Based Muscle Builder
The Power of Muscle Building, Pump and Recovery, All-In-1
Increase Muscle Protein Synthesis
Accelerate Your Recovery
Liposomal Matrix Delivery System
Cutting-Edge Technology

Ingredient Breakdown
Essential Amino Acids: Essential Amino Acids (EAAs) are not produced by the body and must be added to your diet via food or supplement. They help improve and increase muscle recovery, lean muscle building, performance and protein synthesis.
Micronized Creatine Monohydrate: The most heavily researched and trusted form of creatine, backed by hundreds of studies. No other form of creatine has been shown to be more effective over time.
Citrulline: Improved blood flow to increase nitric oxide levels and muscle pumps, to promote endurance and performance.
Betaine Anhydrous: Derived from beet extract. Betaine works synergistically with creatine to increase raw power and strength.
AMINO STRONG BLEND (Proprietary): Glycine-Alanyl-L-Isoleucine, Glycine-Alanyl-L-Leucine, Glycine-Alanyl-L-Valine, L-Histidine, L-Lysine, L-Methionine, L-Phenylalanine, L-Threonine, L-Tryptophan.
Creatine Monohydrate (micronized). Citrulline HCl (salt form). Betaine Anhydrous (TMG) buffered.
LIPOSOMAL MATRIX DELIVERY SYSTEM (Proprietary): Phosphatidylcholine, Phytosterol.
Note: Manufacturers continually change product specifications. While we try our best to keep product descriptions up to date, they do not necessarily reflect the latest information available from the manufacturer. We are not responsible for incorrect or outdated product descriptions and/or images.
FDA: These statements have not been evaluated by the Food and Drug Administration. This product is not intended to diagnose, treat, cure, or prevent any disease.