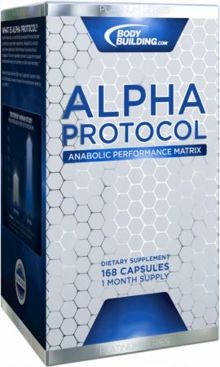 Bodybuilding.com Alpha Protocol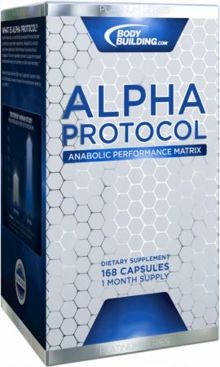 Bodybuilding.com Alpha Protocol
Alpha Protocol:
Unleash Your Inner Alpha*
Alpha Protocol contains 3 ingredients.
Alpha males hit harder, work smarter, and move faster. We lift, we run, we win. We embody confidence, strength, power, and skill. In short, we lead the pack.
Unfortunately, even alpha males get older and, as we age, our bodies slowly start producing less testosterone. Testosterone is the alpha hormone, primarily responsible for muscle and strength maintenance, fat distribution, bone density, and sex drive.
We reach our sexual and hormonal peak in our late teens, when testosterone production begins slowly declining. Test decreases naturally, but age isn't the only factor. Test levels can also decrease due to stress, injury, and other causes.
Maintaining a normal testosterone balance is one of the most critical, helpful steps you can take to lead the pack. Don't fall behind; don't become beta. Unleash your alpha.
I, Alpha
Alpha Protocol is a premium natural testosterone support designed to help support the building of muscle, boost your ability to recover, and support free testosterone levels already in healthy range.* It is the alpha test booster, leading the way with cutting-edge science, patented ingredients, and an innovative formulation*.
Dominate with DAA*
Recent research suggests that AsparTest (D-Aspartic Acid) may serve as a specialized neurotransmitter in parts of the nervous system involved in hormone production.* It has been suggested to stimulate the release of luteinizing hormone (LH) and growth hormone (GH) from the pituitary gland.* Also, it may have a direct effect in the testes by supporting testosterone production.*
LJ100
LJ100 Tongkat Ali is a well-researched, clinically substantiated herbal extract of Tongkat Ali. LJ100 is the most potent form of Tongkat Ali, a science-based product that may support your quality of life.* According to the studies conducted at the University of Malaysia, the patented bioactive Eurypeptide in LJ100 has been suggested to:
Support muscle growth and strength*
Help decrease body fat*
LJ100 has undergone a patented extraction process to capture 22% biologically active eurypeptides, suggested in research to:
Promote sports performance*
Activate the enzymes that metabolize various androgens*
The glycol-protein is patented and known to be responsible for the testosterone support.*
LJ100 is 15x more expensive than standard Tongkat Ali root. It is superior in both efficacy and quality. LJ100 was created by innovative scientists who have been researching Tongkat Ali since the early 1980s. LJ100 is patented by the Massachusetts Institute of Technology (M.I.T.) and the Government of Malaysia.
Tongkat Test Boost
Tongkat Ali root contains numerous beneficial compounds and useful antioxidants which combat cellular damage.
LJ100 is capable of supporting testosterone production; at the same time, it influences the synthesis of pheromones.* This plays an important role in communication, psychological and sexual behavior in humans and animals. Pheromones make us more attractive to females.
Alpha Protocol: Lead the Pack
Alpha Protocol is part of 's Platinum Series. Alpha Protocol's synergistic 3-stage testosterone igniter is backed by a 100% money-back guarantee. If you don't feel the roar from your inner alpha after using Alpha Protocol, simply send us your remaining product for a no-questions-asked refund. We offer this refund with every product in the Platinum Series.
Don't just get back in the game. Win the game with Alpha Protocol.