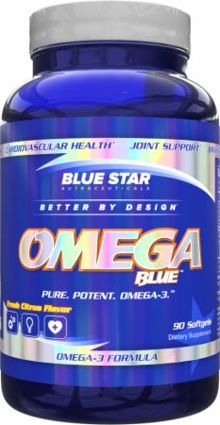 Blue Star Nutraceuticals Omega-3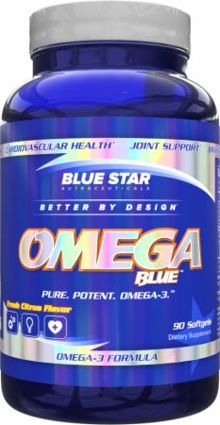 Blue Star Nutraceuticals Omega-3
Omega Blue
Pure. Potent. Omega-3.
Joint Support*
Cardiovascular Health*
Brain Function Support*
What are Omega-3s?
Omega-3 fatty acids are important in the regulation of physical, mental, emotional, and physiological deficiencies - a notion that has been recognized in more than 15,000 scientific papers.
Additionally, omega-3s play a crucial role in overall health maintenance throughout your entire life. To date, research shows that every cell in your body requires omega-3s to properly function.*
Fish are friends.
Omega-3 fatty acids are produced by aquatic plants. Phytoplankton, for example, produce EPA and DHA - the most bioactive, and therefore the most benefit-providing, omega-3s.* Ocean fish feed on high volumes of phytoplankton, making them a rich, highly concentrated dietary source of EPA and DHA.
You've heard it your whole life - "fish is brain food." Now you know why.
What does "essential" mean?
What your body needs and what your diet provides are two very different things. Your body can make some of what it needs on its own. This isn't the case for omega-3 fatty acids. Omega-3s are essential fats, meaning your body must get them from food or supplements. Otherwise, you don't get them at all.
So what are my options?
Eat all this, or take Omega Blue.
The American Academy of Nutrition and Dietetics recommends 500 mg daily of EPA and DHA. How you get it is up to you. Three servings of eel? Sixteen raw clams? Two dozen eggs? Any of these options will get you there.
But none of them even come close to a single serving of Omega Blue.
| FOOD | SERVING | EPA/SERVING(MG) | DHA/SERVING(MG) |
| --- | --- | --- | --- |
| Eggs | 2 eggs | | |
| Clams | 75g | | |
| Cod | 75g | | |
| Eel | 75g | | |
| Octopus | 75g | | |
| Scallops | 75g | | |
| Flaxseed | 1 tbsp | | |
| Soybean Oil | 1 tbsp | | |
| Omega Blue | 1 serving (2 softgels) | | |
From sea-to-sea, they agree.
The benefits of omega-3 fatty acids are globally undisputed. Researchers from countries around the world agree that diets rich in omega-3s support important health benefits in the following areas:
Muscle Growth*
Muscle Endurance*
Fat Metabolism*
Heart*
Brain*
Bone and Joint*
Skin*
Hair*
Omega Blue is the perfect daily supplement for:
The benefits of omega-3 fatty acids are globally undisputed. Researchers from countries around the world agree that diets rich in omega-3s provide important health benefits in many areas.*
IFOS - we have it, they don't.
Blue Star Nutraceuticals Omega Blue is certified by the International Fish Oil Standards (IFOS) program. The IFOS program is the only third party fish oil testing and certification program in the world. IFOS tests products by lot, using direct analysis, for active ingredient content, contaminants, and radiation. As a result, IFOS certified products are the global standard for purity, potency, and freshness.
The big three of Omega-3s:
Omega-3 supplements are judged in three definitive areas: omega-3 content, contaminants, and stability.
1. Content
Not all omega-3 products are created equal. Worse still, what's on the label isn't always what's in the product. Omega Blue is IFOS certified so you can be absolutely positive that you're getting everything you say we are, right down to the milligram.*
2. Contaminants
Clinical research shows that contaminants from untested ocean fish can cause negative health effects, which may actually outweigh the benefits of the omega-3s in which they're found. If your omega-3 hasn't been tested, it may contain unsafe levels of mercury, lead, and even arsenic.
But not Omega Blue! It's certified by IFOS, the only program in the world that verifies a product does not contain harmful levels of contaminants.*
3. Stability
Scientists call it stability. You call it shelf-life. Regardless your choice of word, it's important to know that it can be compromised by a number of factors: improper formulation, inefficient handling, low-cost manufacturing, poor storage, exposure to elements. When you choose Omega Blue, you won't need to worry about any of those.* Omega Blue is guaranteed pure, potent, and effective by the International Fish Oil Standards program, the only program of its kind in the world.*
The big three of Omega-3s:
There's no arguing the importance and effectiveness of omega-3 fatty acids. Hundreds of published studies from around the world conclude the positive health benefits associated with daily omega-3 intake.
But the truth is - fish stinks. And concentrated fish oil pills? Even worse!
But not Omega Blue. Omega Blue is wrapped in a protective coating that dissolves only in your intestines, not your stomach.* What does that mean for you? Zero "fish-burps". You're free to take Omega Blue mid-meal, mid-morning, or even mid-meeting without having to worry about it wreaking havoc on your conversation skills.* It's a detail often overlooked by shoddy, substandard omega-3 manufacturers - and it's another shining example of what sets Omega Blue apart from all the fish oil products.
Three reasons why we don't use krill:
1. Krill oil is not sustainable.
The global scientific community agrees that the dwindling krill population is having widespread negative impact on the global food chain. As well, krill fishing produces one of the highest carbon footprints of any fishing industry in the world. As a result, commercial Krill harvesting has already been banned in several major oceans.
2. Krill is not superior to fish oil.
Krill manufacturers have started rumors that krill oil is absorbed 500% better than fish oil. Scientific literature says "not so!"*
When taken during a meal, the absorption rates of krill oil and fish oil is almost identical.* These rumours boasting of 500% better absorption rates were likely started to justify the extremely high price of krill oil products.
3. Krill is often marketed with unproven claims and insufficient evidence.
That's why world-renowned fitness professionals recommend sticking with Omega Blue.*
Better By Design
Real products from real people.
"Supplementing with Omega-3s can make improvements for anyone who eats a typical western diet. Omega Blue is a high-potency source of EPA and DHA, which may support health in a number of areas. This is not just for athletes, everyone can benefit from Omega Blue."*
David Gundermann
Chief Scientific Officer, Blue Star Nutraceuticals
Ph.D., Nutrition & Metabolism, University of Texas Medical Branch M.Sc. Human Performance, University of Florida
Blue Star Nutraceuticals - Better By Design