Quick Links to Best Prices Price History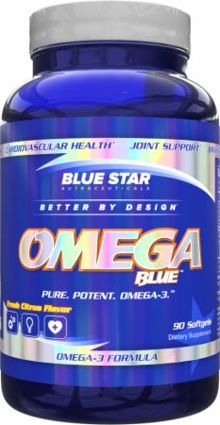 Blue Star Nutraceuticals Omega-3
HIGHLIGHTS
SUPPORTS CARDIOVASCULAR HEALTH*
PROVIDES JOINT SUPPORT*
PROMOTES HEALTHY BRAIN FUNCTION*
Omega-3 by Blue Star Nutraceuticals is lab tested by the International Fish Oil Standards program to ensure the absence of mercury and dangerous levels of heavy metals.*
PURE. POWERFUL. OMEGA-3.
BY THE NUMBERS
5
5 STAR IFOS RATING
0
ZERO FISH BURPS AND ENTERIC COATED
3
ULTRA PURE TRIPLE STRENGTH OMEGA-3s
BETTER BY DESIGN.
FAQS
HOW DO I DOSE OMEGA-3 TO ENSURE THE BEST RESULTS?
For males above the age of 19, take 3-4 Omega-3 softgels per day with a meal. For females above the age of 19, take 2 Omega-3 softgels per day with a meal. However, many performance athletes choose to take higher doses - in some cases up to 6 softgels per day.
WHY DID YOU USE FISH OIL AND NOT KRILL OIL?
Per gram, fish oil contains more EPA/DHA than krill. Blue Star Nutraceuticals is concerned about the protection of our wildlife and, when offered, we always choose the eco-friendly solution.
The fish oil in Omega-3 is chosen for its high quality and its sustainable natural sources. Krill's swarming patterns make them extremely vulnerable to overfishing. They are the foundation of the entire food web and, if limited or wiped out entirely, thousands of other species would be affected.
Simply put, we feel that krill fishing is an unnecessary risk for an entire ecosystem.
Blue Star Nutraceuticals is a dietary supplement company that designs, develops, manufactures, markets and retails the best sports nutrition products in the world. We follow the strictest manufacturing practices ensuring potency, purity and safety of our products. A brand synonymous with elite level athletes, performance and physiques, delivering superior results to people just like you. What you notice as a user is that our supplements have a lot more pop. They're just that much stronger, and you feel them that much quicker.*