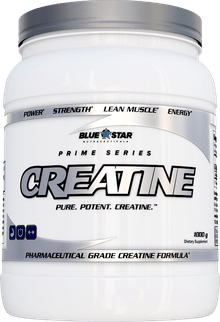 Blue Star Nutraceuticals Creatine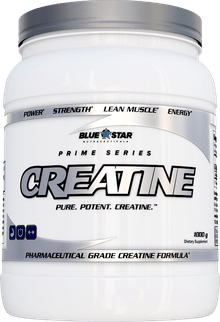 Blue Star Nutraceuticals Creatine
PURE. POTENT. CREATINE.
Fast Recovery*
Improve Strength*
Muscle Endurance*
THE KING OF ALL NON-HORMONAL MUSCLE BUILDERS
Blue Star Creatine is the grand daddy and king of the non-hormonal muscle building supplements. Since it's not a hormone based compound it's safe for use by both men and women and for athletes at all levels of competition.*
HOW DOES CREATINE WORK?
By super saturating your muscle cells with creatine, you will have a massive boost in strength and muscle mass by quickly replenishing "ATP," the major energy source you use when you're lifting weights and doing high intensity workouts.*
Product Highlights
Strength
POWER
Muscle
How To Take
1
SCOOP
8-10
Oz of Water
1x
Morning / POST-WORKOUT
WHAT WILL YOU EXPERIENCE ON CREATINE?
Support a More Muscular Physique*
Promote Strength and Power Increases*
Improved Recovery*
Fuller, More Volumized Muscles*
Human Research
Creatine is clinically validated on human test subjects, which is important since most companies mislead you by promising results solely on animal research. What's worse, they don't use the clinically validated dose in their formula! The results found from 100's of clinically tested and published studies suggest creatine will help:
Improve maximal strength*
Improve muscular endurance*
Increase anaerobic power*
Increase hydration*
Promote Faster Recovery*