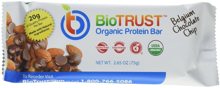 BioTrust Organic Protein Bar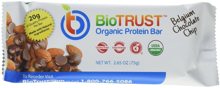 BioTrust Organic Protein Bar
An array of certified organic ingredients, including 20 grams of organic protein and 5+ Grams of organic, prebiotic fiber.

Free from wheat, soy protein, trans fat, and gluten. No artificial sweeteners, no sugar alcohols, no preservatives.

High-protein, satisfying on-the-go meal replacement or snack for your busy lifestyle.

Over 200,000 boxes sold. Superb taste and texture.

Independent laboratory testing ensures potency and purity. GMP quality assured. No artificial sweeteners, flavors, colors or preservatives added. Gluten-Free and non-GMO. Contains milk (whey) and tree nuts (almonds).
More