Warning: This product is not currently available at any store.
Click the button above and PricePlow will email you when the first store has it in stock!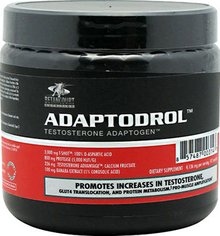 Betancourt Nutrition Adaptodrol is a unique testosterone booster. It not only contains ingredients designed to naturally increase testosterone levels; Adaptodrol utilizes vitamins, minerals, and enzymes to bolster overall health and maintain exercise-related benefits.
Adaptrodol contains 3 grams of D-aspartic-acid (DAA), 1000 IU of vitamin D, and more than 200 mg of calcium fructate. All three of these ingredients have been designed to naturally increase testosterone levels. Because DAA also boosts growth hormone production and calcium fructate and vitamin D contribute to general health, this combination leads to greater muscle gains than a simple testosterone booster alone.
Vitamin B6, B12, and the enzyme protease are used for protein regulation and increasing metabolism. Vitamin B6 allows for faster amino acid absorption in the muscles, vitamin B12 boosts protein digestion, and protease is an enzyme that breaks proteins into their constituent amino acids. The combination of these protein-digestion ingredients decreases post-workout recovery time and allows for rapid muscle growth.
Betancourt Nutrition Adaptodrol contains no heavy metals, dangerous fillers, or toxins. The capsules are easy to use and are to be taken between meals to deliver ingredients throughout the day, optimizing digestion and increased testosterone.
References [+]
References [-]
[1] Yamada k, et al. "Effect of corosolic acid on gluconeogenesis in rat liver." Diabetes Research and Clinical Practice. 2008 Apr;80(1):48-55.
[2] Chandrashekar KN. "D-Aspartic acid induced oxidative stress and mitochondrial dysfunctions in testis of prepubertal rats." Amino Acids. 2010 Mar;38(3):817-27.
[3] D'Aniello A. "D-Aspartic acid: an endogenous amino acid with an important neuroendocrine role." Brain Research Review. 2007 Feb;53(2):215-34.
[4] Topo E, et al. "Evidence for the involvement of D-aspartic acid in learning and memory of rat." Amino Acids. 2010 May;38(5):1561-9.
[5] D'Aniello G, et al. "Occurrence of D-aspartic acid in human seminal plasma and spermatozoa: possible role in reproduction." Fertility and Sterility. 2005 Nov;84(5):1444-9.
[6] "Vitamin B6." National Institutes of Health – Office of Dietary Supplements.
[7] "Vitamin B12." University of Bristol.
[8] Pilz S. "Effect of Vitamin D Supplementation on Testosterone Levels in Men." Hormone and Metabolic Research. 2011; 43(3): 223-225.
* RESULTS MAY VARY