Quick Links to Best Prices Price History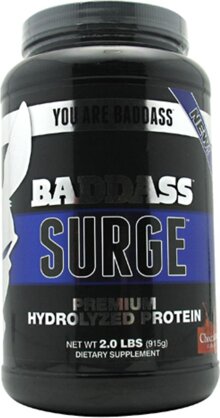 Swipe left/right to reveal product information
Premium Hydrolyzed Protein
Promotes Stronger, Clean Muscles*
Clinical Test Measurements Showed Gains of 32% in Strength/Muscular Endurance with Hydrolyzed Whey Protein vs. Intact Protein Formulas
Drives Amino Acids Directly to Muscle Tissue, with No Time Delay Unlike Most Intact Proteins*
Nourishes and Supports Tendon, Ligament and Muscle Strength for Optimum Muscle Growth*
Builds Muscle and Improves Body Composition*
Improves Resistance Exercise Performance*
Like a torrential tsunami, Baddass Surge has been crafted to ram a flood of amino acids instantaneously to muscles. Surge is a potent, hydrolyzed whey protein and its advanced absorption kinetics deliver no ordinary protein. This is Baddass. Surge is designed to absorb faster, build stronger muscles, and increase overall strength and swagger. When you meet a hurdle, you take it down or take it with you. You run headlong into life. You Surge. You Are BADDASS.*
There is No BS in BADASS
It's All About Timing
When it comes to protein supplementation, and getting something that really works, it all comes down to simple math. Quality > Quantity, but Timing + Quality > Quality + Quantity. Confused yet? Here we go.
Timing is king when it comes to protein supplementation. After an intense workout, the sweet spot for real growth is 90 minutes to 2 hours. During this period, it is essential to deliver nutrition, high-quality aminos and growth factors into muscle tissue to promote repair and growth.*
Most protein formulas contain long-chain aminos that digest too slowly to capitalize on this interval. Baddass doesn't want you to waste your time or money - which is why we formulated Surge - the cleanest, most effective form of protein on the market. We know you're not fooled by advertising claims - which is why we have research to back them up. We don't believe in BS at Baddass.*
In 2008, Krieger conducted a groundbreaking study in support of Hydrolyzed Protein, (like Baddass Surge.) This study employed normal, experienced weight lifters, who underwent upper and lower body strength testing and body composition analysis. Within a month of the test's time frame, those that received the Hydrolyzed Whey Protein, showed gains of 24% in strength/muscular endurance, and by the end of the study they showed gains of 32%. That is some Baddass data.
A 2009 study demonstrated that a 35-gram dose of Hydrolyzed Whey Protein is about 30% more effective in stimulating muscle anabolism than intact protein when measured over a 6-hour period. That's right, 30% more effective. (Koopman et al. 2009.)
Another study in 2009 by Buckley and associates investigated whether Hydrolyzed Whey Protein speeds recovery more effectively than intact whey protein. We'll give you a hint. It did. Even more - peak isometric torque was recovered fully in 6 hours in the Hydrolyzed Whey group, remaining suppressed in the intact protein group. We all know that increased muscle recovery is linked with enhanced muscle growth, and a full recovery in 6 hours is unmatched.*
When you meet a hurdle, you take it down or take it with you. And Baddass Surge's Premium Hydrolyzed Protein delivers the muscle that fuels your fire. Dare we say it is the most groundbreaking bodybuilding product to enter the market? We dare. Surge is BADDASS.*