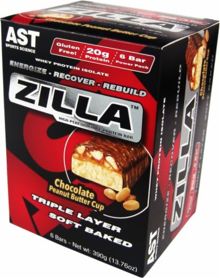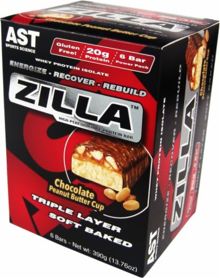 New Zilla High-Performance protein bar is the best tasting protein bar you'll ever have! And it packs a potent 20 grams of whey protein in each gourmet bar.
If you're anything like me, you're sick and tired of the mouth-watering pictures on protein bar wrappers only to find out what they deliver is an experience akin to compressed sawdust dipped in glue. What good is a protein bar if you have to force feed it to yourself? Nearing 3 years in development, the new Zilla High-Performance protein bar is gourmet nutrition on a whole other level. The taste is incredible. I'm talking candy bar goodness level. Three layers of soft, chewy deliciousness with just enough peanut crunch, dipped in creamy, mouth-watering milk chocolate and delivering 20 potent grams of muscle-building, hunger quenching whey protein.
Zilla is a tripled layered bar giving you multiple taste and texture sensations from start to finish. A protein-packed, soft, chewy core is topped with a thick, creamy peanut butter layer and followed with a layer of crunchy, roasted peanuts. From here Zilla is dipped in rich, creamy, high-protein milk chocolate and finished off with a high-protein peanut butter drizzle.
Zilla is great anytime to fuel and energize your workouts, satisfy hunger cravings, and kick-start recovery. Zilla is the perfect snack or quick meal on the go. Zilla is gluten-free, with only 5 grams of sugar and power-packed with 20 grams of whey protein.