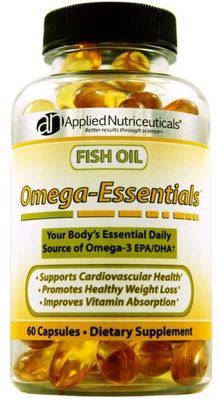 Applied Nutriceuticals Omega-Essentials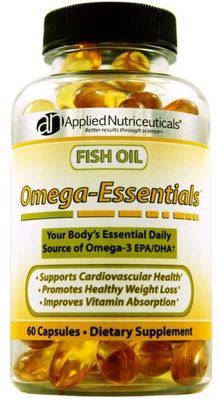 Applied Nutriceuticals Omega-Essentials
Omega-3s are an important inclusion in any heart-healthy diet, as they provide a wide range of benefits. Many studies have proven how these healthy fats can improve brain health, help prevent blood platelets from forming cholesterol-rich plaques co arterial walls and help prevent inflammation in diseases such as rheumatoid arthritis. The lack of omega-3s may also cause attention deficit hyperactivity disorder (ADHD) and mood disorders, such as post-partum depression.*
Omega Essentials contains high amounts of both EPA and DHA, offering a precise blend of the aforementioned health benefits at an extremely affordable price. Each capsule of Omega Essentials offers a precise blend of EPA/DHA in very appreciable amounts, rendering it extremely effective well. Omega Essentials is made in limited runs using Soft Gel Technologies Marine Lipids with vitamin E (mixed tocopherols) added to avoid oxidation so freshness and potency are guaranteed.*
Improves Vitamin Absorption*
Promotes Healthy Weight Loss*
Increases Cognitive Function*
Supports Cardiovascular Health*
Omega Essentials Frequently Asked Questions
Q: What makes Omega Essentials different from other products?
A: Each capsule of Omega Essentials offers a precise blend of EPA/DHA in very appreciable amounts, at an extremely affordable price. The fish oil source is from the pristine waters of the South Pacific, making them free of toxic heavy metals. Omega Essentials also is made in limited runs only, with vitamin E (mixed tocopherols) added to avoid oxidation, so freshness and potency are superior to other brands which may sit in warehouses for months before reaching store shelves.
Q: What health benefits will I see from taking Omega Essentials?
A: EPA has been shown in scientific studies to be essential for cardiovascular health, and DHA is an essential nutrient for brain function and development, and EPA and DHA are nutrients many individuals may be deficient in. Omega Essentials provides an excellent source of Omega-3 fatty acids rich in EPA and DHA.
Q: When is the best time to take Omega Essentials?
A: Take 1-2 capsules 2-3 times throughout the day.
Q: Should Omega Essentials be taken with food?
A: It can be taken with or without food.
Q: Are there any downsides to taking Omega Essentials?
A: No- but it may "repeat" with a slightly fishy aftertaste which is common to most fish oil products. This can be lessened or eliminated completely if taken with food.
More About Omega Essentials
Omega-3 Fatty Acids
Omega-3 Fatty Acids have been a hot topic in the health industry over the last few years. Omega-3s are an important inclusion in any heart-healthy diet, in that they can help prevent blood platelets from clotting and sticking to artery walls in the form of cholesterol-rich plaques (Burr et al., 1994). Omega-3s may also help prevent inflammation in diseases such as rheumatoid arthritis, and lack of omega-3s may also cause attention deficit hyperactivity disorder (ADHD) and mood disorders, such as post-partum depression (FDA, 2006).*
EPA/DHA
Unfortunately, while appreciable amounts of the plant-derived omega-3 fatty acids are consumed daily in North America (approximately 2 g/day), DHA, (docosahexaenoic acid) one of the physiologically-essential nutrients in omega-3's, is consumed at much smaller levels than needed (approximately 80 mg/day) (Burr et al., 1994). EPA, (eicosapentaenoic acid) another nutritionally essential ingredient in omega-3's, is consumed at the level of approximately 50 mg/day in the average diet. DHA plus EPA are virtually absent from plant food sources traditionally rich in omega-3's (such as flax, canola oil, and walnuts) (Roche and Glibney, 1996). DHA is required in high levels in the brain and retina as a physiologically-essential nutrient to provide for optimal neuronal functioning (learning ability, mental development) and visual acuity (Mori et al., 1993). DHA plus EPA are both considered to have beneficial effects in the prevention and management of cardiovascular disease plus associated risk factors as well as other chronic disorders (Roche and Glibney 1996). Since the metabolic conversion of Omega-3's to DHA/EPA (combined) by metabolism is very limited in humans, the most direct way of providing DHA plus EPA for the body is via their direct consumption, in the form of some type of supplemental dietary delivery.*
WHY OMEGA ESSENTIALS?
Omega Essentials contains high amounts of both EPA and DHA, offering a precise blend of the aforementioned health benefits at an extremely affordable price. Each capsule of Omega Essentials offers a precise blend of EPA/DHA in very appreciable amounts, rendering it extremely effective as well. Omega Essentials is made in limited runs using Soft Gel Technologies Marine Lipids with vitamin E added to avoid oxidation, so freshness and potency are guaranteed, whereas other brands may sit in warehouses for months before making it to store shelves. Omega Essentials provides a high-quality source of DHA, which studies have found to protect the brain against memory loss, and EPA, to provide a solid foundation for cardiovascular and eye health (Morris, et al. 1993).*