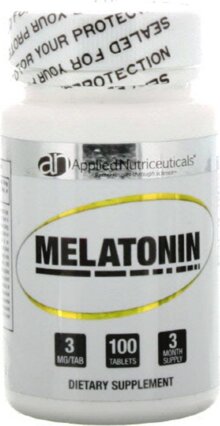 Applied Nutriceuticals Melatonin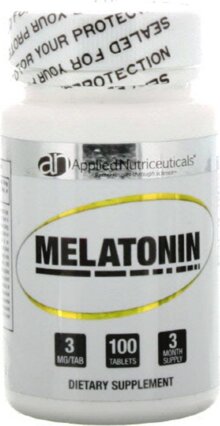 Applied Nutriceuticals Melatonin
Melatonin
Melatonin is a substance produced in the pineal gland that possesses powerful antioxidant properties, and may act as a direct free radical and reactive oxygen species (ROS) scavenger.* Melatonin plays a pivotal role in the sleep cycle; daylight exercises a tonic inhibitory control over melatonin via the retino-hypothalamic pathway on melatonin synthesis via N-acetylserotonin O-methyltransferase. Modern literature suggests that a dosage of melatonin between 500mcg (0.5mg) and 5mg may work well to support the quality and duration of the rest cycle.* Melatonin may stimulate lipolysis through BAT and possibly WAT (via normalizing circadian stages), while at the same time inhibiting insulin production from the β cells in the pancreas; MT production declines significantly with age, which seems to coincide with a decrease in caloric expenditure during sleep. Net caloric expenditure decreases approximately 25 kCals per night between the ages of 25 and 50, which nets out to a fat accumulation of approximately 1.2 kg per year; sleep stages play a role in this, as REM sleep tends to have higher energy expenditure than NREM (deep) sleep.

Currently, at least 40 studies demonstrate an inverse link between self-reported sleep and weight gain. Research by Van Cauter et al. has documented that sleep deprivation induces insulin insensitivity in human subjects through increased cortisol and cytokines, with lack of sleep also being linked to increased appetite through decreased leptin and increased ghrelin levels. Sleep deprivation increases caloric expenditure (a potential reason for increased appetite); net energy expenditure tends to vary greatly over the sleep cycle, and as we age, the net energy expenditure during sleep tends to decrease significantly; Research by Somers et al. on 14 human subjects documented increases in sympathetic neural activity (short bursts) during REM sleep (with an overall net move toward increased parasympathetic tone, which does not affect WAT), with the bursts of sympathetic neural activity actually higher than during wakefulness; during NREM sleep, sympathetic activity is normally much lower than during REM or wakefulness. Since sympathetic neural activity is associated with catecholamine release (NE and EPI) and WAT, it is logical to hypothesize that interfering with the sleep cycle (especially REM sleep) can significantly alter sympathetic neural activity, and the EE associated with this.

Relationship Between MT and Periphery Based on the above information, it is logical to hypothesize that by decreasing artificial light exposure and/or by supplementing melatonin, weight control can be promoted.* MT stimulates thermogenesis via BAT and possibly WAT (indirectly), which can elevate body temperature and energy expenditure; MT also limits insulin secretion, at least at night, which is an effect that may preserve pancreatic β cell function. By limiting MT synthesis by increasing the time artificial light exposure, BAT thermogenesis (or the amount of heat produced) and sympathetic bursts (potentially influencing WAT) associated with REM sleep decrease significantly, as energy that would normally be thrown off as heat is now stored as adipose.
Since the beginning, Applied Nutriceuticals has prided itself with giving our consumers the most cutting-edge and efficacious supplements possible. With this is mind, Applied Nutriceuticals has developed both the Innovation Series and Pure Series, two unique lines of supplements that are not a mere product evolution, but a REVOLUTION in the industry. The Innovation Series utilizes a new and novel approach to delivering our most potent supplements to date, by combining cutting-edge ingredients with unique delivery systems; the Pure Series is comprised of many of the best single-item ingredients on the market, giving customers a great low-cost alternative to other brands- why settle for ordinary when you can have extraordinary? Choose the path not taken, choose the next level, choose the Innovation Series and Pure Series from AN.