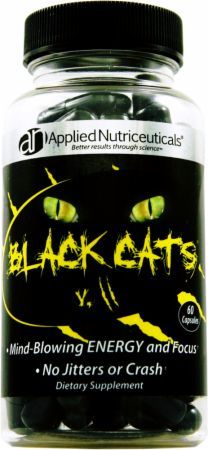 Applied Nutriceuticals Black Cats V2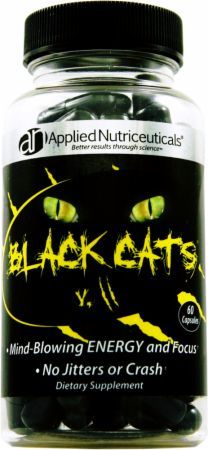 Applied Nutriceuticals Black Cats V2
PURE ENERGY
PERFECTED!
INSTANT,

SMOOTH

ENERGY
WITHOUT THE JITTERS*
EXTREME FOCUS

AND MENTAL


CONCENTRATION*
TIME RELEASED

FOR UP TO

8
HOURS

WITH MINIMAL CRASH

*
What is BLACK CATS V.2 and What Does it Do?
Black Cats V.2 is an extremely powerful energy product that enhances physical energy, mental focus and concentration, plus supports fat metabolism.* Black Cats V.2 is PURE ENERGY....PERFECTED! It contains absorption aids that allow Black Cats V.2 to deliver these effects more consistently over a longer period of time without causing nervousness or jitters.*
The Basics of Black Cats V.2
Promotes output of catecholamines for alertness and mental sharpness*
Supports appetite and craving control*
Promotes energy levels and positive mood*
Increases metabolic rate and stimulates fat loss*
More energy to complete daily tasks*
Supports healthy body composition*
Tighter skin tone*
Longer, more effective workouts*
Supports productivity*
Promotes Positive mood*
What Makes BLACK CATS V.2 the Most
Effective Form of Energy on the Market?
KEY INGREDIENTS!
When we formulated and perfected the Black Cats V.2 formula we did our homework. As a result, we decided to use specific ingredients that not only give you endless amounts of energy and focus, but will also increase your metabolic rate and support positive mood.*
EVODIAMINE
Evodiamine (Evodia Rutaecarpa) is a natural substance that has been used in Chinese Traditional Medicine (TCM) as a stimulant. It has also been suggested to have thermogenic and diuretic qualities and is considered to help support a healthy appetite level.* Evodiamine also has the tendency to stimulate the release of the catecholamines dopamine, noradrenaline and adrenaline (4,13,16) resulting in:
Supports feelings of fullness via increasing plasma CCK
(a hormone that decreases hunger)*
Increased lipolysis (utilization of fat for energy)*
Increased Focus, Mood elevation and Greater energy*
HORDENINE
Hordenine is an inhibitor of norepinephrine and a competitive substrate of MAO-B. These qualities allow Hordenine to have a dual action (16):
1. By weakly inhibiting catecholamine reuptake, Hordenine allows for a greater amount of catecholamines to be present in the bloodstream, which may support greater energy and alertness.*
2. By acting as a competitive substrate of MAO-B, Hordenine supports levels of monoamines such as PEA (phenylethylamine).* PEA and other monoamines can have some additional stimulatory effects as well.*
COCOA EXTRACT
Another component of Black Cats V2 is theobroma cacao (Cocoa Extract), an anti-oxidant flavanol compound that contains several different plant-derived psychoactive constituents. Cocoa extract has been suggested to have positive effects on mood and cognitive awareness; it contains high amounts of theobromine, phenylethylamine (PEA), L-tyrosine, and tyramine, all of which produce mild stimulatory and mood-supporting effects.* (14-15)
CAFFEINE
Caffeine is a stimulant that acts on the central nervous system, allowing for enhanced focus and energy; it is suggested to support coordination and increase the ability to do complex tasks.* Caffeine accomplishes this by acting centrally to block adenosine receptors in the brain in a non-specific manner, as well as interfering with GABA-A receptor binding. Caffeine also has some mood-enhancing effects, as well as the ability to increase endurance and muscle contraction during exercise.* (1-3,5-7,14,16)
When are the various times in which
BLACK CATS V.2 can be taken?
Black Cats V.2 can be taken whenever energy is needed. The recommended dose for Black Cats V.2 is to start with 1 then increase dosage until desired effects are reached. It is recommended to not take within 5 hours of bedtime. Black Cats V.2 is safe and non-habit forming when taken as directed. Avoid stacking with other stimulants or depressants.
At Work
At the Gym
When you need
ENERGY!
At School
With Breakfast
As a Study Aid
BLACK CATS V.2 FAQ'S
What is the difference between Black Cats V.2 and RPM?
RPM contains ingredients that have acute anabolic (muscle-building) and strength-enhancing properties in addition to promoting energy.* Black Cats V.2 contains no anabolics and is more potent from a pure energy-boosting and fat loss perspective.
How much caffeine is in Black Cats V.2?
Although the formula is proprietary, one capsule of Black Cats V.2 contains approximately the same amount of caffeine as a large (16oz) cup of coffee.
What's the difference from the original Black Cats?
Black Cats V.2 is an improved version from its precursor. You will get a smoother and more focused feel than ever before!*
PURE ENERGY
PERFECTED!
ENDLESS ENERGY* • NO JITTERS* • INCREASED FOCUS*
REFERENCES
1. Bolton, Ph.D., Sanford; Gary Null, M.S. (1981). Caffeine: Psychology, Use, and Abuse. Orthomolecular Psychiatry 10 (3): 202-211.
2. Newton, R; Broughton LJ, Lind MJ, Morrison PJ, Rogers HJ, Bradbrook ID (1981). "Plasma and salivary pharmacokinetics of caffeine in man". European Journal of Clinical Pharmacology 21 (1): 45-52.
3. Nehlig, A; Daval JL, Debry G (1992 May-Aug). "Caffeine and the central nervous system: Mechanisms of action, biochemical, metabolic, and psychostimulant effects". Brain Res Brain Res Rev 17 (2):
4. Wang T, Wang Y, Kontani Y, Kobayashi Y, Sato Y, Mori N, & Yamashita H. (2008). Evodiamine improves diet-induced obesity in a uncoupling protein-1-independent manner: involvement of antiadipogenic mechanism and extracellularly regulated kinase/mitogen-activated protein kinase signaling. Endocrinology. 149(1), 358-66.
5. Fredholm B, Bättig K, Holmén J, Nehlig A, Zvartau E (1999). "Actions of caffeine in the brain with special reference to factors that contribute to its widespread use.". Pharmacol Rev 51 (1): 83-133
6. Verkhratsky A. (2005). "Physiology and Pathophysiology of the Calcium Store in the Endoplasmic Reticulum of Neurons". Physiol. Rev. 85 (1): 201-279. Dews, P.B. (1984). Caffeine: Perspectives from Recent Research. Berlin: Springer-Valerag.
7. Ivy, JL; Costill DL, Fink WJ, Lower RW (1979 Spring). "Influence of caffeine and carbohydrate feedings on endurance performance". Med Sci Sports 11 (1): 6-11.
8. Banderet, LE, and Lieberman HR. Treatment with tyrosine, a neurotransmitter precursor, reduces environmental stress in humans. Brain Res Bull 22: 759-762, 1989.
9. Romawski, W, and Grabiec S. The role of serotonin in the mechanism of central fatigue. Acta Physiol Pol 25: 127-134, 1974.
10. Usmani O; Belvisi M, Patel H, Crispinitric oxide N, Birrell M, Korbonits M, Korbonits D, Barnes P (2005). "Theobromine inhibits sensory nerve activation and cough.". FASEB J 19 (2): 231-3.
11. Trice, I; Haymes, EM (Mar 1995). "Effects of caffeine ingestion on exercise-induced changes during high-intensity, intermittent exercise". Int J Sport Nutr 5 (1): 37-44
12. Lieberman, HR, Corkin S, Spring BJ, Wurtman RJ, and Growden JH. The effects of dietary neurotransmitter precursors on human behavior. Am J Clin Nutr 42: 366-370, 1985.
13. Yoshizumi M, Houchi H, Ishimura Y, Hirose M, Kitagawa T, Tsuchiya K, Minakuchi K, & Tamaki T. (1997). Effect of evodiamine on catecholamine secretion from bovine adrenal medulla. The Journal of Medical Investigation : JMI. 44(1-2), 79-82.
14. Serafini, M., Bugianesi, R., Maiani, G., Valtuena, S., De Santis, S. & Crozier, A. 2003. Plasma antioxidants from chocolate. Nature 424, 1013.
15. Kondo K, Hiranitric oxide R, Matsumoto A, Igarashi O, Itakura H., Inhibition of LDL oxidation by cocoa, Lancet, November 1996; 348(2):1514.
16. Barwell C et al. Deamination of hordenine by monoamine oxidase and its action on vasa deferentia of the rat. J Pharm Pharmacol. 1989 Jun;41(6):421-3.