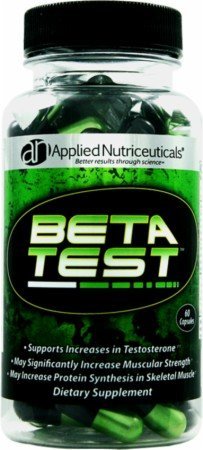 Applied Nutriceuticals Beta Test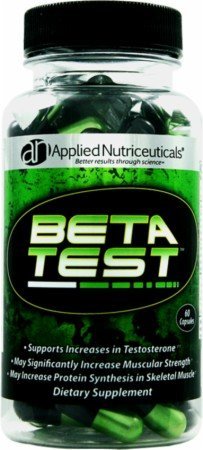 Applied Nutriceuticals Beta Test
beta test is formulated
to help support:
Healthy testosterone
production*
supports strength
gains*
prime thermogenic &
metabolic output*
Stop coming up with excuses why you don't perform like a champion and are having trouble taking things to the NEXT LEVEL!
If you feel like an alpha, you will perform beyond your own expectations, and BETA TEST can give you the beast-mode mentality that makes the difference between being your best or being the rest. BETA Test features a leading-edge formula to help support healthy testosterone levels, protein synthesis in skeletal muscles, maximum power gains, and superior confidence to perform at your peak. It doesn't matter if you are a gym rat or a weekend warrior, don't shortchange your training—make the most out of every one of your workouts with BETA TEST!
If you are ready to maximize muscle growth and reach your performance potential, check out what makes BETA TEST better than the rest.
Coleus forskohlii

has the ability to stimulate adenylate cyclase activity and increase cyclic adenosine monophosphate (cAMP), which regulates and activates enzymes required for cellular energy.* Cyclic AMP promotes the breakdown of stored fats and it regulates the body's thermogenic response to food, supports the body's metabolic rate, and utilizes body fat more efficiently. Additionally, Coleus forskohlii supports healthy testosterone levels along with the maintenance of lean body mass.*1

Amentoflavone

is a biflavone found in Gingko biloba, St. John's Wort, Herba selaginella, and many other herbals. It has very unique properties in that it antagonizes GABA-A receptors, inhibiting acetylcholine esterase (AChE), it also supports increases in calcium release within skeletal muscle. This may result in muscular strength during an intense workout.* Amentoflavone has also been demonstrated to have some potent PDE4-inhibiting (PDE4 is the enzyme that breaks down cAMP) characteristics, which may support the higher levels of cyclic AMP. *2

Huperzine-A

may support a healthy balance of acetylcholine esterase (AChE), an enzyme that converts acetylcholine into acetate and choline.* By inhibiting AChE, Huperzine-A increases acetylcholine in the central and peripheral nervous systems (CNS and PNS). This may explain some of the positive effects of Huperzine-A, as more acetylcholine in the PNS may have some helpful benefits relating to increased muscular contractility and strength.*3
Take 2 capsules in the morning. For maximum muscle-building results, take in conjunction with Applied Nutriceuticals HG4-Up . Cycle 12 weeks on, then 6 weeks off.
Maintain a healthy diet and lifestyle
Drink plenty of water, at least 100 oz. per day
Sleep at least 7 hours per night
Eat plenty of fruits and vegetables
Eat plenty of complex carbs
Eat 5-6 smaller protein and carb-rich meals throughout the day
Avoid alcohol and tobacco
References
Badmaev, V. Majeed, M. Conte, A, Parker, J. "Diterpene Forskolin (Coleus forskohlii, Benth.): A possible new compound for reduction of body weight by increasing lean body mass" Sabinsa Corporation http://www.b5srl.com/ articles/nu/
2002/marapr/badmaev.htm 1/21/2004
Suzuki et al. 2000 J Pharmacol Exp Ther 2000 Feb;292(2):725-30
Endo Physiol Rev October 2009 vol. 89 no. 4 1153-1176