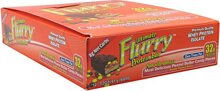 ANSI Ultimate Flurry Protein Bar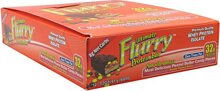 ANSI Ultimate Flurry Protein Bar
Outrageously Delicious...
Candy Sensation in Every Bite!
Enjoy America's Favorite Candy/Cookie Pieces Layered in a Great Tasting High Protein/Low Carb Bar!
Ultimate Flurry Hi-Protein Bars™
Say Goodbye to all those Old-fashioned Protein Bars...
Ultimate Flurry™ Hi-Protein Bars are one of the best tasting high protein, low carb bars on the market today. When you bite into an Ultimate Flurry Hi-Protein Bar infused with your favorite candy / cookie pieces, it's an experience you'll never forget. Each 91g bar is loaded with 32 grams of premium protein like whey isolate, only 7-8 net carbs, contains healthy fats (including flax oil), probiotics and 0 grams trans fat. Ultimate Flurry Protein Bars come in three delicious flavors. So, Go ahead and indulge, We dare you!