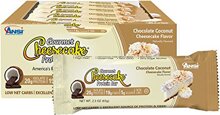 ANSI Gourmet Cheesecake Protein Bars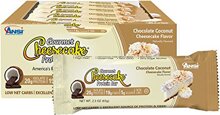 ANSI Gourmet Cheesecake Protein Bars
The new ANSI Gourmet Cheesecake Protein Bars are absolutely the healthiest, good for you, low carb, delicious bar you will ever taste. Each soft, textured bar has 20g of Isolate Protein, 100% natural and sweetened with the all natural herbal sweetener Stevia. The Gourmet Cheesecake Protein Bar has low net carbs, no sugar alcohol, and absolutely no soy protein.
The new
Gourmet Cheesecake Protein Bars
are free of the rBST & rBGH hormones, high in fiber with 17-19g in each bar. We also lowered the sodium content to below 90mg. These new bars are also Gelatin Free and Gluten Free.
The PricePlow Review
Mike and CJ reviewed these bars, and while they were very good, the question remains... would they be our favorite?
It turns out, these are our #2 selection for clean protein bars, but when the price is right, they're definitely worth trying!!
Features:
20 grams of Isolate Protein
100% All Natural
Gluten Free
High Fiber 17-19g
Naturally Sweetened
NO Soy Protein
No Gelatin
NO Sugar Alcohol
Hormone Free rBST & rBGH
Less Sodium
Low Net Carbs