Quick Links to Best Prices Price History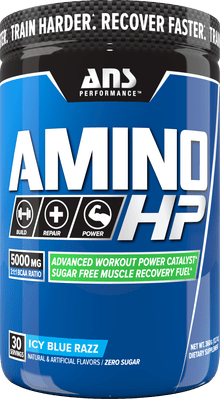 AMINO HP is a great-tasting advanced workout power catalyst. The sugar-free formula is scientifically developed to trigger muscle protein synthesis and speed recovery while you train.
What sets AMINO HP apart from simple BCAA products is the Muscle HorsePower Complex – 4 powerful ingredients designed to increase muscle power output and muscle force, helping you crank out more work with every rep.
The Amino HP Ingredients
Below is a brief description of the ingredients. But for a full analysis, see our blog post titled Amino HP - ANS Performance's Fully-Loaded BCAA Powder.
BCAAs 2:1:1 Ratio
5000 mg of Research-Validated 2:1:1 Ratio Branched Chain Amino Acids (BCAAs) to trigger and support muscle protein synthesis and recovery. BCAAs are absorbed directly into the muscle tissues and are metabolized quickly for rapid results.*
THE AMINO HP MUSCLE HORSEPOWER COMPLEX
A 4 Ingredient System Designed to Increase Muscle Power Output, Amplify Muscle Contraction Force & Enhance Muscular Endurance. It is made up of Taurine, Trimethylglycine, Choline and Selaginella tamariscina extract (a natural source of amentoflavone.*
• 2000 mg of Taurine to support cellular hydration, provide antioxidant protection from damaging free radicals and enhance muscular contraction.*
• 1250 mg of Trimethylglycine (Betaine) to maximize muscular endurance, amplify strength and power output. Betaine acts as a methyl donor in the body, in particular it donates a methyl group to homocysteine to form methionine, which is a key amino acid involved in the synthesis of creatine.*
• 500 mg of Choline Bitratrate. Choline is a multifunctional ingredient with several benefits ranging from fat metabolism support to memory. But choline is also a precursor in the body of acetylcholine, which is the key neurotransmitter involved in muscle contraction.*
• 50 mg of AmentoPump. This natural extract of the herb Selaginella tamariscina is a source of the compound amentoflavone. Another multi-functional compound, amentoflavone is linked to vasodilation (via PDE5 inhibition), potential acute muscle power increase and even enhanced fat loss.*
L-CITRULLINE MALATE
1000 mg of Citrulline Malate – the two part wonder compound that can elevate nitric oxide, and help the body recycle lactic acid and use it for energy. The net result is it can improve endurance, reduce soreness and speed recovery.*
ROSA ROXBURGHII EXTRACT
50 mg of Rosa roxburghii extract. This is unique and rare herbal extract with an incredible array of potential benefits. Beyond its traditional usage, studies have shown this potent herb to improve the body's antioxidant capacity (glutathione and superoxide dismutase levels), improve markers of cardiovascular function and even improve mental performance (reaction time and memory).*
5g of Research-Validated 2:1:1 Ratio BCAA's per scoop*
Muscle HorsePower Complex Increases Muscle Power Output & Muscle Contraction Force*
Increases Endurance & Speeds Muscle Recovery*
Caffeine Free, Sugar Free & Versatile – Can be used at any time of the day*
5000mg:
BCAAs 2:1:1 RATIO
1250mg
Trimethylglycine (betaine)
1000mg
L-citrulline malate
500MG
Choline bitartrate
50MG
AmentoPump
50MG
Rosa roxburghii extract