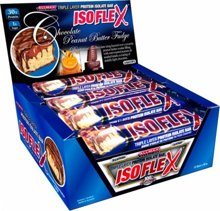 AllMax Nutrition Isoflex Protein Bar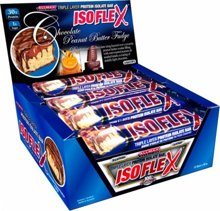 AllMax Nutrition Isoflex Protein Bar
When you're looking for a convenient protein snack ISOFLEX protein bars are a great-tasting high protein and low sugar option that will fit into your active lifestyle.
Each bar contains 30 grams of high-quality protein, Omega 3 and 6 essential fatty acids as well as essential vitamins and minerals. Even though these bars taste delicious you'd be surprised to hear they only contain 1 gram of sugar per bar. The sugar found in these bars has a minimal impact on blood sugar and insulin so they are an ideal option for your body-shaping plan.
ISOFLEX bars are the only "true" triple- layered bar on the market with distinct cookie and marshmallow or caramel layers completely engulfed in a sugar-free chocolate coating. These high protein bars are available in four mouth-watering flavors: Chocolate Caramel Crunch, Chocolate Marshmallow Fudge, Chocolate Almond Delight and Chocolate Peanut Butter.
If you've carried other protein bars around with you in your gym bag or knapsack you may have been annoyed when you opened your bar to discover it had melted into a sticky mess. Well, that won't happen with ISOFLEX bars as they have been created with an advanced cold-flow chilling process. This process prevents protein degradation and post-production melting.
Triple Layer ISOFLEX Protein Bars:
No Hydrogenated or Trans Fats
30 grams of the highest quality timed release protein sourced from Whey Protein Isolate and Calcium Caseinate
Only 1 gram of Sugar and 4.5 grams of Saturated Fat
Contains both Omega 3 and 6 Essential Fatty Acids
Cholesterol Free
No Aspartame or other low quality artificial sweeteners