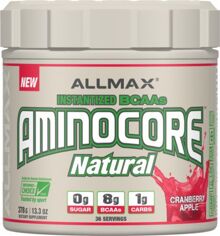 AllMax Nutrition Aminocore Natural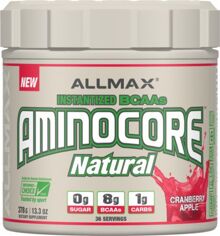 AllMax Nutrition Aminocore Natural
AminoCore Natural
ARE BCAAS THE BEST SUPPLEMENT YOU CAN TAKE?
AMINOCORE Natural has all the same great benefits as our popular AMINOCORE BCAAs but now naturally sweetened with Stevia! AMINOCORE Natural uses only all natural color and flavoring and is an easy and refreshing way to get the muscle-building power of protein into your workout!* With our new patent pending SCOOP-LOCK system with ERGO-LID packaging! Never lose your scoop again and you never have to go digging through your BCAAs to get it.*
Naturally Supports Lean Muscle*
No Fillers, Zero Non-BCAA Aminos
100% of Vitamins B3, B6, B9 & B12
Naturally Refreshing Taste!
NATURAL SWEETENER, NATURAL COLOR & NATURAL FLAVOR!
AMINOCORE Natural Sweetened with a pure and natural extract of Stevia root to achieve a delicious and refreshing BCAA drink with zero artificial sweeteners. AMINOCORE Natural has taken the best part of the most effective BCAA formula on the market and made it completely free of artificial color and flavor with zero preservatives, fillers or additives. AMINOCORE Natural is even free of soy (a common allergen). Many BCAAs on the market use Soy to make their BCAAs mix more easily, not ALLMAX, we've used Sunflower.*
BCAAs (Branched Chain Amino Acids – Leucine, Valine and Isoleucine) are one of the most effective supplements you can buy. BCAAs improve and maintain your muscle tone like nothing else.* Having more muscle than fat creates the most ideal physical shape. A greater degree of lean muscle mass elevates your metabolism and in doing so can increase the rate at which you burn through calories.*
AMINOCORE Natural has a whopping 8,180 mg of BCAAs! That's right, over 8 grams of BCAAs in a single serving. Perfect for consumption during your workout to drive up anabolic impact, or away from the gym when you can't get your protein in and you need to prevent the catabolic breakdown of muscle tissue and increase protein synthesis.*
INTELLIGENT DIETING SUPPORT*
Caloric restriction, limiting carbs, increased cardio intensity; all essential for effective dieting, and all rapid ways to breakdown and flush away muscle. The muscle tissue breakdown that takes place when you're dieting reduces your metabolism and your ability to burn calories. Taking AMINOCORE Natural feeds your muscles directly even when dieting and dramatically limits muscle deterioration.* The net effect; you retain muscle, support fat loss and maintain a higher metabolism.* AMINOCORE Natural is the dieting secret you've been looking for.*
PURE BCAAS IN THE IDEAL RATIO
AMINOCORE Natural has always used the perfect ratio of 45% L-Leucine 30% L-Valine 25% L-Isoleucine (or 9:6:5); as verified by the World Health Organization (WHO) and scientific research from around the world as the ideal ratio for Human Metabolic Amino Acid Metabolism.*
ALL BCAAS ARE NOT CREATED EQUAL!
When you're comparing one BCAA to the other, look closely at the formula – does it include Glutamine passed off as real BCAAs? In contrast, the AMINOCORE Natural label shows you precise BCAA amounts. Glutamine has its place, but it is not a Branched Chain Amino Acid. AMINOCORE Natural includes 8,180 mg of real BCAAs, not glutamine. AMINOCORE Natural is a 9:6:5 ratio BCAAs. AMINOCORE Natural contains additional highly bioavailable B-vitamins not only enhance the anabolic environment, they help to release additional metabolic energy.*
Most people who train hard don't understand why they can't grow like they should. Every serious bodybuilder knows the tried and-tested impact of large dose BCAAs. Packing on serious lean muscle is a matter of reversing the body's natural tendency to break down muscle (catabolism). BCAAs signal the body to build muscle and when taken at the right time, can increase the anabolic effect.*
MORE ANABOLIC ACTIVITY*
It's simple math – add more muscle than you subtract! It's one thing to talk about getting more BCAAs, it's another thing to actually do it – with CONSISTENCY! To get serious, you must commit to taking the right amount BCAAs every time you train (or more).*
So, why is this so difficult? Getting these notoriously difficult to mix (and to drink) BCAAs into your system effectively and efficiently has always been a massive barrier. Old-school non-instantized BCAAs without the INSTACLEAR process are messy, clump up, don't mix and worst of all, leave a hideous oil-like film on the surface. And they taste bad. Taste, convenience and mixability issues turned all but the most determined and taste bud challenged bodybuilders off BCAAs completely. Most supplement companies answered this by simply supplying less BCAAs in a cheaper 2:1:1 ratio.*
Only AMINOCORE has InstaCLEAR BCAAs. Other BCAA formulas can foam up when shaken and form an oily film on the surface. Only InstaCLEAR mixes up clear with just a fork! Add some ice and you've got a refreshing natural drink that will take your training to a whole new level!*
AMINOCORE NATURAL FEATURES SCOOP-LOCK TECHNOLOGY
Together we can put an end to the scourge of Scoop Loss. Gone are the days of digging through your supps to get your scoop. SCOOP-LOCK is ergonomically designed to lock your scoop into place the first time and every time! And it's right there at the top of your AMINOCORE Natural when you open it!*
Scoop-Lock is also available on all ISOFLEX, ALLWHEY Gold, ALLWHEY Classic, HEXAPRO and CASEIN- FX products and it's only from ALLMAX. Look for the rugged new Ergo-Lid on ALLMAX products with Scoop-Lock inside!*
THE BEST MIXABILITY, DELIVERY & ABSORPTION
AMINOCORE Natural has INSTACLEAR; a cutting-edge solubility technology to BCAA dosage administration. Until now, delivery of a pure 9:6:5 ratio BCAA powder in a potent research directed level (8,180 mg), ideal for anabolic activity, was next to impossible. Aside from being a Premium Grade BCAAs, our INSTACLEAR process FLASH-FREEZE-DRIES our BCAA powder to create a truly soluble and easily-mixed BCAA drink that absorbs in a truly liquid form.*
AMINOCORE Natural has a taste that is truly exceptional. With absolutely no bitterness or aftertaste commonly found in BCAA drinks, you will love your workout even more with ALLMAX AMINOCORE Natural in your shaker cup! Available in a 378 g in an incredibly delicious and refreshing Cucumber Lemon Flavor that will make you think you're drinking an ice cool glass of the fanciest 'spa-inspired' infused water.