Quick Links to Best Prices Price History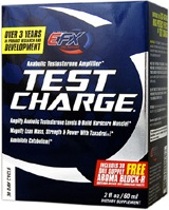 All American EFX Test Charge
Everyone knows that testosterone is the "king" of bodybuilding hormones. It's one of the key hormones that determine how much overall strength and muscle you can develop.
Until now there was really only one way to jack your test levels to the sky. That is until we developed Test Charge!
Our Formulator Swears That Test Charge Does Not Contain Prohormones or Any Other Illegal Performance-Enhancing Compounds.
If That's True... Why Does It Work So Well?
What is Test Charge?
Test Charge is a non-steroidal, non-prohormone, all-natural testosterone activator that works WITH the body's natural physiological processes in helping to amplify free testosterone levels. This high-tech formula combines some of the most potent (legal) anabolic substances known to man with a new compound now revealed for the first time called Taxadrol. This substance is only found in ONE place in the entire world. And we are the ONLY company harvesting and extracting its anabolic gold!
Flex Wheeler's "Secret" Now Revealed!
Test Charge is THE "secret weapon" that IFBB Living Legend Flex Wheeler used during his drug-free transformation. This amazing formulation was kept top secret around our offices for over 3 years. But now both Test Charge and his amazing story are finally being divulged to the public for the first time ever...
Flex Wheeler, IFBB Legend & Living Proof
"Some of you may not know this, but 3 years ago I became a managing partner with All American EFX. The timing couldn't have been more perfect since this was right at the early stages of Test Charge R&D. The problems I've had are well documented, so I was more than eager to lend my body to the refinement of this product. So, after 3 years in development, All American EFX and I are excited to finally share Test Charge with you.
This has to be one of the most exciting products we've ever produced. It's THE reason I was able to complete my drug-free transformation, get off HRT, and also have another child. This is amazing technology... ...and I hope you get as much out of using Test Charge as I do!"
Some Thought His Results Were Just Too Good To Be True!
They said it couldn't be done. That there was no way Flex could build that kind of muscle unless he had something a bit more hardcore' than vitamins! Well guess what? He did: Test Charge! And that's why Flex was randomly tested just to prove this stuff was the real deal. We even posted his results for the whole world to see here.
WARNING:
Test Charge is a highly potent, hardcore product. For extreme results, Test Charge users should train with maximum intensity while following a nutrient rich, calorically dense diet.
DO NOT TAKE TEST CHARGE AND ARMOMA BLOCK-R FOR MORE THAN 30 DAYS WITHOUT A MINIMUM 7 DAY BREAK BETWEEN CYCLES.For the most insane workout EVER!
Stack Test Charge together with K-OTIC and experience unparalled gains in strength, power, intensity and muscle mass.