Quick Links to Our Prices
How does this work and how do stores get listed? See our disclosure below to learn more. Price History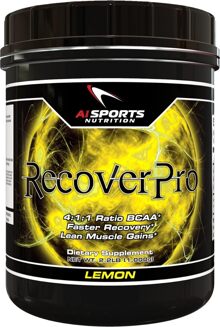 AI Sports Nutrition RecoverPro
As an athlete, bodybuilder, or gym enthusiast you know just how much a grueling workout can breakdown your muscle - a requirement for subsequent muscle growth. You also have felt how tiring and exhausting a long cardio session can be. The breakdown of muscle and endurance training are necessary for performance enhancement.
If fitness was easy, everyone would do it. Wouldn't it be nice if there were ways to increase muscle protein synthesis to heal muscle breakdown faster, ways to increase endurance so you can stay on the treadmill longer? Well there is. Science has shown that supplementing with a branched chain amino acid (BCAA) cocktail can significantly increase nitrogen retention in the muscle, increase protein synthesis, and increase endurance.*
About BCAAs
BCAAs consist of L-Leucine, L-Isoleucine, and L-Valine, which are amino acids. Amino acids are the building blocks of protein, and protein is what your muscles need to be able to recovery and grow.*
Consuming free form amino acids, in the form of BCAAs will provide a quick boost to your amino acid pool, and therefore increase recovery, endurance, vascularity, and many other things.*
Dosing:
Less than 160 lbs = 1 scoop
160-180 lbs = 2 scoops
Over 180 lbs = 3 scoops
References:
Borsheim E, Tipton KD, Wolf SE, Wolfe RR: Essential amino acids and muscle protein recovery from resistance exercise.Am J Physiol Endocrinol Metab283 :E648 –E657,2002.
Matthews DE. Observations of branched-chain amino acid administration in humans. J Nutr. 2005;135:1580S–4S.
Anthony JC, Reiter AK, Anthony TG, et al. Orally administered leucine enhances protein synthesis in skeletal muscle of diabetic rats in the absence of increases in 4E-BP1 or S6K1 phosphorylation.. 2002;51(4):928–936.
Bianchi G, Marzocchi R, Agostini F, Marchesini G. Update on nutritional supplementation with branched-chain amino acids. . 2005;8(1):83–87.
Yoshizawa F. Regulation of protein synthesis by branched-chain amino acids . Biochem. Biophys. Res. Commun. 2004;313:417–422