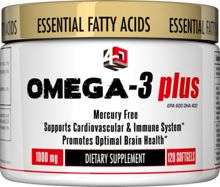 4 Dimension Nutrition Omega-3 Plus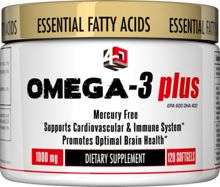 4 Dimension Nutrition Omega-3 Plus
4DN
---
OMEGA-3 PLUS
4DN OMEGA-3 PLUS NUMBERS:
100%
Ultra-Pure, Essential Fatty Acids
600
EPA
400
DHA
0
Banned Substances or Fillers
4 Dimension Omega-3 Plus delivers ultra-pure omega-3's, which can help hard training athletes and bodybuilders in a number of ways. Omega-3's have been shown to support the body's natural lypolytic fat breakdown and switch off lipogenic actions that cause fat storage.* Omega-3's also help support a healthy inflammation response in muscles and joints after hard training.* Furthermore, the omega-3's found in 4 Dimension Omega-3 Plus can help boost mental focus for intense workouts!* 4 Dimension Omega-3 Plus is made up exclusively from premium, omega-3 sources including sardine, mackerel and anchovy instead of less concentrated and often largely impure fish sources like salmon. The Omega-3 Plus rapid-release softgels are purified to eliminate mercury, and other heavy metal contaminants. Don't settle for anything less than the highest quality fish oil - 4 Dimension Omega-3 Plus contains highly concentrated and purified Omega Fish Oil for enhanced potency and better absorption.* The result, 4 Dimension Omega-3 Plus is a truly superior product that meets or exceeds the strictest standards in the world!