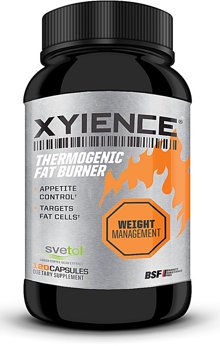 Xyience Thermogenic Fat Burner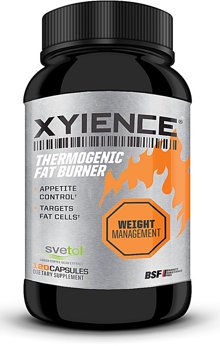 Xyience Thermogenic Fat Burner
4-Way Fat Loss Complex
Support A Healthy Thyroid*
EGCG / Caffeine Combo - Supports your body's effort to burn calories.
Resveratrol / Quercetin / Combo – Resveratrol combined with Quercetin was suggested to prevent fat cells from maturing and reduce the size of fat cells.*
Svetol Green Coffee Bean extract - A recent clinical study, which followed 50 people, ages 19-75, over 60 days, found that those who took 400 mg of Svetol per day, the amount found in 1 serving of Xyience Thermogenic Fat Burner, lost an average of nearly 6 percent of body weight and increased their lean mass.*
Steady Energy – The use of N-acetyl-L-tyrosine, caffeine and schizandra, paired with L-theanine are utilized to support a steady, balanced rate of energy.*
Cayenne – Cayenne is known to reduce hunger, resulting in fewer consumed calories throughout the day, while also supporting thermogenesis (calories being converted to heat instead of being stored as calories) and support lipolysis (the breakdown of fat).*
Gugglesterones – A plant sterol to support thyroid health.*
Bioperine and 6,7 dihydroxy Bergamottin – This scientifically advanced combination enhances the ingredient's bioavailability ( the amount your body is able to absorb and utilize), while also creating a steadier, time-released dispersion of ingredients.*
Thermogenic Fat Burner is a scientifically advanced herbal blend designed to support fat loss in 4 ways.
Suppress Appetite
First, Cayenne is believed to have a direct effect on the appetite, leading to reduced calorie intake throughout the day.*
Calorie Burning Support
Second, our Green Tea EGCG extract combined with caffeine helps support an increase in your energy levels and promotes thermogenesis, essentially using calories to produce heat rather than being stored as fat.*
Reduced Fat Cell Numbers and Size
Trans-resveratrol was suggested to act on fat cells by reducing their number and size. Additionally, by combining Quercetin with Trans-Resveratrol, researchers were able to show a synergy that resulted in a decrease in the conversion of potential fat cells into mature fat cells*. Life Sci. 2008 May 7;82(19-20):1032-9
Healthy Thyroid Support
Last, guggulsterones support a healthy thyroid.* A healthy thyroid gland is needed to tell the body to burn calories efficiently and break down fat accumulation in the body.*
As with all Xyience products, Thermogenic Fat Burner is made for athletes of all levels and is FREE OF BANNED SUBSTANCES.