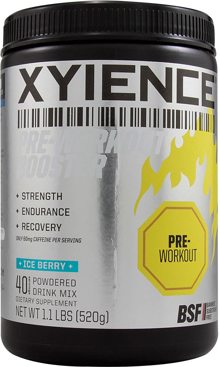 Xyience Pre-Workout Booster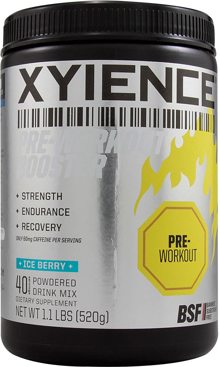 Xyience Pre-Workout Booster
Xyience Pre-Workout Booster
Muscle Pumps* - Muscle Endurance* - Muscle Strength* - Recovery* - Only 60 mg Caffeine
Muscle Endurance Compound

– Supports the ability for your muscles to perform longer before muscle fatigue sets in.*

Muscle Pump Infusion

- A comprehensive amino acid matrix to support longer lasting muscle pumps and ego boosting increases in muscle size.*

Muscle Strength Formula

– Creatine monohydrate has been suggested to support high-intensity exercise performance, boost muscle strength and increase muscle size.*

Mental Focus and Workout Amplifier

– Support for a focused and energized workout, without excessive levels of caffeine and other stimulants.*

Muscle Recovery and Immune Matrix

– Glutamine supports the regulation of muscle glycogen and muscle protein synthesis , which is beneficial in muscle repair and recovery after exercise. Glutamine also provides extra immune support during intense bouts of exercise.*
Strength and Performance
In order to provide you with a great workout, our delicious Xyience Pre-Workout Booster begins with the most well researched creatine, known as Creatine Monohydrate. Creatine Monohydrate has been shown to dramatically increase muscle strength and performance during high-intensity exercise.*
Endurance
To amplify the effects of creatine, support muscle endurance and reduce muscle fatigue, Xyience Pre-Workout Booster adds a synergistic amount of Carnosyn Beta-Alanine and a 2:1 Citrulline Malate, ingredients suggested to take your endurance to new levels! Currently, human clinical studies have shown that Citrulline combined with Malic Acid (Citrulline Malate) may help support exercise performance.*
Recovery
Dealing with days and days of uncomfortable muscle recovery can be tough. That's why Xyience included the Muscle Recovery & Immune Matrix. This matrix contains ingredients that play a key role in limiting muscle protein breakdown, supporting blood circulation in the muscles and providing a muscle pH buffer.* All of these factors play a key role in reducing DOMS (Delayed Onset Muscle Soreness) and muscle fatigue.
Mental Focus
To top it off, our Mental Focus and Workout Amplifier blend incorporates a special synergistic dosage of L-Tyrosine, Taurine and Caffeine to support mental focus and alertness for users looking for a high stimulant alternative.* Finally there is a pre-workout booster that supports the focus and drive needed for an intense workout without using excessive levels of caffeine and other stimulants!*
AS WITH ALL XYIENCE PRODUCTS, Xyience Pre-Workout Booster is Free of Banned Substances.