Warning: This product is not currently available at any store.
Click the button above and PricePlow will email you when the first store has it in stock!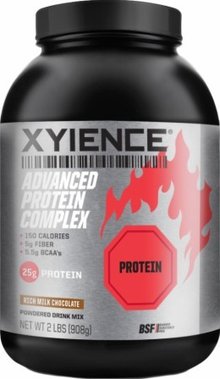 Xyience Advanced Protein Complex
Xyience Advanced Protein Complex
Naturally Sweetened Time Released Protein Complex
25 Grams of Protein - 5.5 Grams of BCAA's - 5 Grams Fiber - Only 150 calories - Amazing Taste
Sustained Release Amino Acid Delivery

– Optimal balance of slower and faster absorbing amino acids that muscles need to recover and grow

25 Grams of the Highest Quality Cross-Flow Microfiltered Whey Protein Available

- You won't have to worry about high levels of mercury, lead, arsenic and cadmium like you do with low quality proteins and our special protein extraction method means No Sour Milk Aftertaste!

5.5 Grams of BCAAs per scoop

– High level of BCAAs (Branch Chain Amino Acids) to help fuel and preserve your muscles after intense exercise*

5 Grams of Healthy Fiber per scoop

– Fiber helps you feel fuller and helps provide a slow steady stream of amino acids to your muscles throughout the day
XYIENCE ADVANCED PROTEIN COMPLEX
It's a FACT, strength and extreme athletes far exceed the daily protein requirements of the average person. Studies also suggest when athletes engage in both strength training and endurance, such as mixed martial arts, their protein requirements are increased further.*
FACT: If you don't consume enough protein from your diet, the body stays in negative nitrogen balance, leading to protein catabolism, lean muscle wastage and slow recovery.*
THATS WHY REAL ATHLETES USE ADVANCED PROTEIN COMPLEX TO ACHIEVE MAXIMUM MUSCLE GROWTH.
Advanced Protein Complex was developed to deliver a steady state of optimal amino acid concentrations into the bloodstream, such as the powerful Branched Chain Amino Acid (BCAA) Leucine, a potent stimulator of protein synthesis. Advanced Protein Complex is formulated to stimulate powerful anabolic effects, increase lean muscle growth and enhance rapid recovery.* Each great tasting serving of Advanced Protein Complex packs in 25g of the perfect ratio of Cross-flow microfiltered Whey protein concentrates, isolates and Milk protein isolates.
Advanced Protein Complex combines this muscle-activating protein blend with 5g of fiber in every serving, not only for its many health and digestive benefits but also to slow gastric emptying rates. This additional fiber helps create a greater protein balance in the body, and increases feelings of satiety, helping you feel fuller longer. Use great tasting Advanced Protein Complex daily or, pre-or post workout to activate your muscle growth, accelerate your recovery time and keep you in peak physical condition.*
AS WITH ALL XYIENCE PRODUCTS, ADVANCED PROTEIN COMPLEX IS Free of Banned Substances.