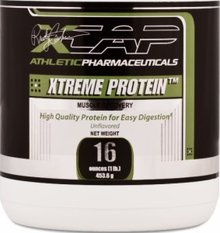 Xtreme Couture Xtreme Protein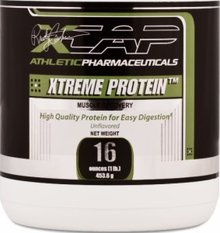 Xtreme Couture Xtreme Protein
Xtreme Protein™ from XCAP is produced using a natural, ultra-low temperature micro-filtration method.
The result is a product supplying a full balance of bioactive whey proteins, with an excellent amino acid profile.
"Everyone knows that Whey Protein Isolates are substantially better than much cheaper Whey Protein Concentrates and even cheaper and lower quality Caseinates. Protein powders are not even close to created equal. You are better to take 20 grams of the best stuff rather than 50 grams of garbage"
Blood Doc John
2 Kinds of Whey Protein Isolates - Know what to look for
What you probably didn't know is that there are 2 kinds of Whey Protein Isolates.
Which are:
Ultra Low Temperature Micro-Filtered (This one is significantly better)

It contains 12 times more GMP than ion exchanged whey protein isolate. Our product is 100% Ultra Low Temperature Micro - Filtered
Higher temperature ion-exchange (This one is denatured which means it is much lower quality and considerably cheaper)

Our Xtreme Protein™ is manufactured using a low temperature microfiltration process which allows us to provide undenatured protein with a full balance of bioactive whey protein fractions, including immunoglobulin (IgG), lactoferrin (Lf) and glycomacropeptides (GMP).

In fact, our Xtreme Protein™ supplies up to 12 times more GMP than ion-exchanged whey protein isolate.

This is important because of the GMP functions include:

binding of enterotoxins such as E. coli
the inhibition of bacterial and viral adhesion
the promotion of bifidobacterial growth
themodulation of immune system responses.

Other whey processing technologies that use higher temperatures cause irreversible "unfolding" of the protein fractions that can dramatically reduce the biological activity of the protein.
Don't Get Confused by the Marketing Hype
Most proteins sold are manufactured by one of 2 companies then re-labeled and marketed as many of the common products you see in magazines.


Most whey proteins are processed using technologies which result in the denaturing of the proteins, thereby reducing important biologically active proteins such as lactoferrin (LF), Immunoglobulin (1gG =Immunoglobulin G) and glycomacropetides (GMP).
Xtreme Protein™ from XCAP is produced using a natural, ultra-low temperature micro-filtration method.The result is product supplying a full balance of bio active whey proteins, with an excellent amino acid profile.
Why Our Protein is Different
Our protein is produced in our pharmaceutical labs like the rest of XCP products. It is not some massed produced denatured concoction with all the "good stuff filtered out"


Our Protein is Undenatured
It contains: (natural occurring substances in whey that are usually filtered out in the typical denaturing process. If it doesn't list these ingredients on the label, they have probably been cheaply filtered out and the protein will not have nearly the same effect in your body as these substances below are known to benefit the immune system) (click here for more A)
Beta-Lactoglobulin
Glycomacropeptide
Bovine Serum Albumin
Alpha-Lactoalbumin
Immunoglobulin (IgG)
Lactoferrin
The potential benefits of XCAP's Xtreme Protein™ are numerous.
For example, ingestion of whey protein by chronically ill patients has been studied. The results indicated lower oxidative stress in the study participants, resulting from increased plasma glutathione (GSH) levels.
Wound Healing
When the body is working to heal wounds and surgical incisions it requires increased amounts of protein. Protein and its amino acids are the building blocks that initiate the growth of new skin during the healing process. Inadequate amounts of protein or diets high in poor quality proteins, such as gelatin, may delay the healing process. Whey protein is a very high quality protein and is often the preferred choice for high protein products recommended by physicians following surgery or burn therapy.
Whey protein also contains components with protective anti-microbial properties, such as lactoferrin. In recent years companies have introduced mouthwashes and oral care products containing these protective whey protein components. The companies are taking advantage of the unique features of whey protein to create new products for diabetics and others sensitive to oral irritations.
Whey Protein Isolate from Biotics Research is Kosher and Halal approved.
Each serving of Xtreme Protein™ from XCAP supplies 20 grams of high quality protein, with significant amounts of important protein fractions.
Whey Reduces Blood Pressure
Multiple human studies have shown that the bio active peptides in Whey inhibit Angiotensin-I-converting enzyme (ACE), lowering blood pressure in humans (1). ACE plays a dual role in the regulation of hypertension: catalyzes the production of the vasoconstrictor angiotensin II and inactivates the vasodilator bradykinin (2).
During a 16 week trial, daily administration whey protein rich milk to hypertensive patients led to an average reduction of 7/4 mmHg (systolic/diastolic) (2).
Lactokinins: Whey protein-derived ACE inhibitory peptides. Molecular Nutrition & Food Research. Volume 43 Issue 3, Pages 165 - 167


A fermented milk high in bioactive peptides has a blood pressure-lowering effect in hypertensive subjects. Am J Clin Nutr. 2003 Feb;77(2):326-30.