Quick Links to Best Prices Price History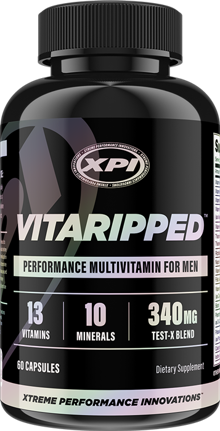 FOR THE ACTIVE MEN
20 ESSENTIALS VITAMINS AND MINERALS
PROMOTES TESTOSTERONE FOR MUSCLE GAINS
SUPPORTS LIBIDO AND VIRILITY
THE NUTRIENTS YOU NEED
DEFENSE AGAINST FREE RADICALS
The push to maintain your peak health and physical strength becomes stronger as men get older and face numerous health problems. Experiencing a decrease in your testosterone levels can cause you to lose the ability to build up muscle and reduces the proper functioning of your assets. XPI knows of the trouble that men like you face which is why they have created Vitaripped.
Designed with the most effective and safe ingredients possible, Vitaripped provides your body with the support needed to boost your testosterone levels. However, the benefits don't just stop there. Containing nutrients your body needs, Vitaripped will increase the antioxidant levels in your body to fight of free radicals. Try Vitaripped today and experience the improvement of your bodily functions and a boost in your overall health!
Struggling to consume all of the proper vitamins and minerals that your body needs is a common problem for many people. Writing it all down in a food journal makes this fact even more apparent.
This is why so many turn to multivitamins.
Unfortunately, not all of the multivitamins in the market today can fulfill your needs and may not fit with your active lifestyle.
Many multivitamins don't provide enough nutrients the average adult needs which means they provide even less for a dedicated athlete. As you grow, repair, and increase your performance to achieve higher levels of training every day, your body will need more nutrients.
Vitaripped by XPI is the perfect solution for you as it contains 20 vitamins and minerals that are essential to the maintenance and health of an active man.
* RESULTS MAY VARY