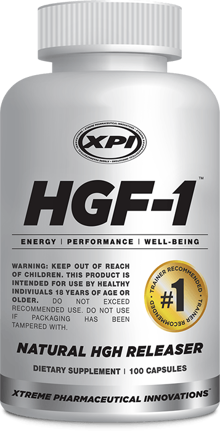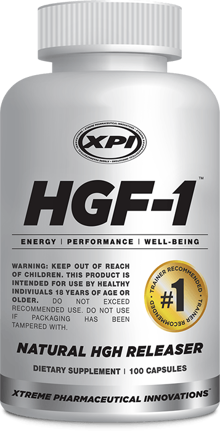 MOST
POWERFUL

HGH SUPPLEMENT ON THE MARKET!
FAST-ABSORBING INGREDIENTS
POTENT FORMULATION
100% LEGAL & SAFE
INCREASE ENERGY, NATURALLY
HELPS YOU TO START FEELING YOUNG AGAIN
There's been a lot of hype recently about HGH and its miraculous anti-aging abilities. As you age, your levels of HGH (Human Growth Hormone) drastically decrease, bringing the onset of symptoms associated with aging. Aches, pains, loss of energy, and even weight gain abound as HGH levels decline. Unfortunately, the majority of options that can increase HGH levels are extremely costly and require a doctor's prescription.
EXTREMELY POWERFUL AND COST EFFECTIVE
HGF-1 may be your answer! HGF-1 is an all-natural HGH releaser that is both powerful and extremely cost effective. HGF-1 contains natural ingredients that stimulate the pituitary gland to produce more HGH as you sleep. During sleep, growth hormone production is at its highest.[1] HGF-1 delivers a concentrated dose of gentle sleep-enhancing compounds, such as Ornithine and GABA, which both enhance sleep duration and quality[2] while drastically increasing HGH production.[3]
With HGF-1, you can enjoy the vitality of the best all natural hgh stimulator. HGF-1 allows you to enjoy best of both worlds being 100% safe and legal while still getting maximum efficacy of a HGH releaser formula! [4,5] and better quality sleep.[6] You'll awake feeling refreshed and revitalized.
HGF-1 feeds the body's ability to sleep and increased HGH stimulation in higher amounts. Take HGF-1 before bed for quality rest and the fully array of benefits from increased HGH.
THE ULTIMATE ALL NATURAL HGH FORMULA!
"MY BODY HAS NEVER BEEN IN BETTER SHAPE"
"I WAS AMAZED AT THE RESULTS"
"I LOVE THIS PRODUCT"
"MY MUSCLE MASS GREW AND BECAME MORE LEAN THAN I HAD BEEN BEFORE"
XPI Supplements prides itself on creating top-level supplements for anyone interested in creating a better body for themselves. That means no amino spiking, using ingredients that work, manufacturing all products in a GMP-certified facility, and using customer feedback to perfect products.
References [+]
References [-]
[1] Takahashi Y, et al. Growth Hormone Secretion During Sleep. The Journal of Clinical Investigation. 47:9. (1968): 2079-2090.
[2] Omori K, et al. Promotion of Non-Rapid Eye Movement Sleep in Mice After Oral Administration of Ornithine. Sleep and Biological Rhythms. 10:1. (2012): 38-45.
[3] Cavagnini F, et al. Effect of Acute and Repeated Administration of Gamma Aminobutyric Acid (GABA) on Growth Hormone and Prolactin Secretion in Man. Pituitary. 93. (1980): 149-154.
[4] Welbourne TC. Increased Plasma Bicarbonate and Growth Hormone After an Oral Glutamine Load. The American Journal of Clinical Nutrition. 61:5. (1995): 1058-1061.
[5] Alleman RJ, et al. A Blend of Chlorophytum Borivilianum and Velvet Bean Increases Serum Growth Hormone in Exercise-Trained Men. Nutrition and Metabolic Insights. 4. (2011): 55-63.
[6] Sassin JF, et al. Human Growth Hormone Release: Relation to Slow-Wave Sleep and Sleep-Waking Cycles. Science. 165:3892. (1969): 513-515.
* RESULTS MAY VARY