Warning: This product is not currently available at any store.
Click the button above and PricePlow will email you when the first store has it in stock!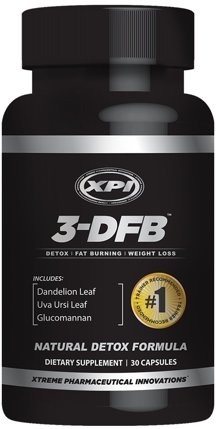 The Fastest Fat Shredder Available!
Are you struggling to lose weight? Whether you're just starting on your weight loss journey with mediocre results or have hit a discouraging plateau, it can be a depressing blow to see your hard work coming up short. Don't give up yet! The key to unlocking your true weight loss potential could be as easy as ridding your body of built up waste and toxins[1] , and 3-DFB is here to help.
Toxins are everywhere, from the air we breathe to the food we eat. These harmful pollutants will build up in the body and tend to wreck havoc with many normal bodily functions, including our ability to lose weight.[2] Don't fret! You don't have to struggle from these negative and damaging effects. You can successfully remove toxins from your body, improve your health, and start seeing weight loss results with 3-DFB.
3-DFB is an all-natural detox supplement that combines many tried and true ingredients to help strip away environmental toxins and get you on the path to better health and a better body. With dandelion, uva ursi, senna leaf, and other clinically tested ingredients, 3-DFB will successfully cleanse the liver and kidneys,[3] flush out excess water, curb appetite, improve digestion,[4] fight infections,[5] and help you efficiently eliminate waste. Stop struggling and start feeling and seeing results with 3-DFB.
References [+]
References [-]
[1] 1. Byron J. Richards, "Detoxification During Weight Loss." Board Certified Clinical Nutritionist.
[2] 2. Royle P, et al. "Whey Protein Isolate and Glycomacropeptide Decrease Weight Gain and Alter Body Composition in Male Wistar Rats.." British Journal of Nutrition. 100:1. (2008): 88-93.
[3] 3. Hayes A, Cribb P. "Effect of Whey Protein Isolate on Strength, Body Composition, and Muscle Hypertrophy During Resistance Exercise. ." Current Opinion in Clinical Nutrition & Metabolic Care. 11:1. (2008): 40-44.
[4] 4. Marshall, K. "Therapeutics Applications of Whey Protein.." Alternative Medicine Review. 9:2. (2004): 136-156.
[5] 4. Marshall, K. "Therapeutics Applications of Whey Protein.." Alternative Medicine Review. 9:2. (2004): 136-156.
The Most Powerful Fat Incinerating Ingredients!