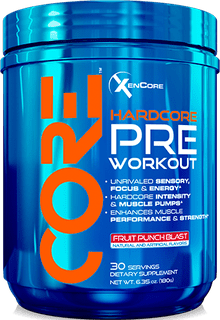 Xenadrine Core Pre-Workout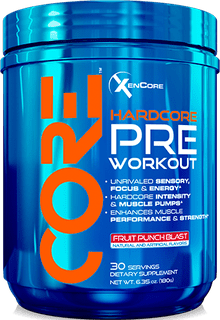 Xenadrine Core Pre-Workout
The Ultimate Pre-Workout Formula
Experience true "hard-to-the-core" results with NEW Xenadrine Core Pre-Workout. Now, the extreme sensory effects you demand can be felt in the hardcore Xenadrine Core Pre-Workout powder. Xenadrine Core Pre-Workout contains dynamic and unique sensory ingredients and delivers an electrifying sensation designed for hardcore demands, hardcore intensity and most importantly, hardcore energizing results.*
Xenadrine Core Pre-Workout will hit you with the most sought-after sensory ingredients on the planet, plus powerful doses of beta-alanine, citrulline, HydroMax and more.
Enhances Muscle Strength & Performance
Xenadrine Core Pre-Workout contains a scientific dose of CarnoSyn Beta-Alanine. A 3,200mg dose of beta-alanine, provided in 2 scoops of Xenadrine Core Pre-Workout, has been shown to enhance the muscle-building and strength-building process.*
Hardcore Muscle Pumps
Xenadrine Core Pre-Workout is fueled by powerful ingredients for muscle swelling, t-shirt stretching muscle pumps that will have everyone at the gym wondering what you're taking! Hydromax Glycerol is a patented ingredient that is ten times more concentrated than the regular glycerol monostearate used by other pre-workouts. This powerful hydrating agent has strong osmotic properties which forces incredible muscle fullness! If you're never trained on glyercol, you're in for one of the most intense and satisfying muscle pumps you've ever felt!*
Unrivaled Sensory & Energy
This hardcore pre-workout delivers the immediate boost of energy, intensity and mental focus you crave. Xenadrine Core Pre-Workout is powered by the highly effective combination of caffeine and theanine. This unique combination of two powerful ingredients combined contributes to an incredible sensory experience.*
Xenadrine Core Pre-Workout also contains other unique sensory enhancing ingredients, including salvia officinalis, mucuna pruriens, perilla fruitescens, and centella asiatica. The question is: can you handle it?
Training with Xenadrine Core Pre-Workout
Xenadrine Core Pre-Workout also contains citrulline. This powerful pump inducer is readily converted to arginine, and then to nitric oxide (NO). Research shows that citrulline increases arginine and NO levels in the body better than arginine itself. Nitric oxide stimulates vasodilation, which then works to increase the amount of blood and oxygen that is delivered to the working muscles.*
With a powerful dose you can crank up the blood flow to your muscles. When blood is rushing to the muscle, the blood is carrying oxygen, amino acids, nutrients – everything you need to feed the muscle – enhancing your training and supporting your between-set recovery for an overall feeling of invincibility in the gym that needs to be felt to be believed!*