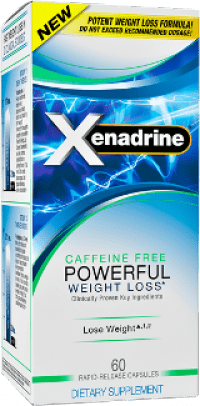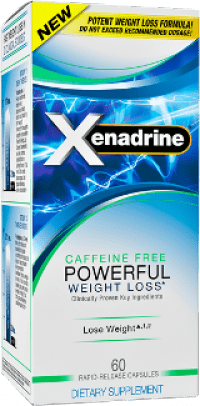 Stimulant Free Weight Loss
Caffeine-Free Xenadrine is a weight loss formula with the same clinically proven key weight loss ingredients (frauenmentle, wild olive, cormino, horsemint) as regular Xenadrine. These powerful weight loss ingredients have been shown to help subjects lose more weight than dieting alone.*
Powerful Weight Loss
Now you can lose weight and feel great without stimulants, with the new Caffeine-Free Xenadrine. Make it part of your own sensible diet and exercise plan to help you achieve the body you've always dreamed about, or substitute it for a regular serving of Xenadrine capsules or Drink Mix for those times when you want a stimulant-free option.*
The Brand That Works
Built on research and results, Xenadrine has been a reliable brand for people looking to lose weight for years! That tradition continues with this powerful caffeine-free Xenadrine weight loss formula, featuring clinically proven key ingredients!*
---
Clinically Proven Weight Loss Ingredients
Xenadrine is designed with a key weight loss ingredient complex proven to promote powerful weight loss in 8- and 12-week clinical studies. Caffeine-Free Xenadrine can help you get the body you've always wanted when combined with diet and exercise. You can lose weight and show off a sexy body!*
In study one, an 8-week randomized, double-blind, placebo-controlled clinical study, test subjects using the key ingredients (frauenmantle, wild olive, cormino, horsemint) lost an average of nearly 17 lbs. versus about 2 lbs. in the placebo group. Both groups followed a calorie-reduced diet.*
In study two, a 12-week third-party, randomized, double-blind, placebo- controlled clinical study, test subjects using the same key ingredients in Xenadrine lost an average of nearly 21 lbs. versus the placebo group, who lost an average of nearly 2 lbs. Both groups followed a calorie-reduced diet.*
---
How to Take Caffeine Free Xenadrine
Take 2 rapid-release capsules with a glass of water 30 minutes before your 3 meals of the day.
Use while following a calorie-reduced diet and regular exercise program.
Don't snack after dinner or between meals, and remember to drink 8 to 10 glasses of water each day.
For best results, use Caffeine-Free Xenadrine for 8 to 12 weeks.
Do not exceed 6 capsules in a 24-hour period.
Ensure you read the entire label before use, and follow these directions.