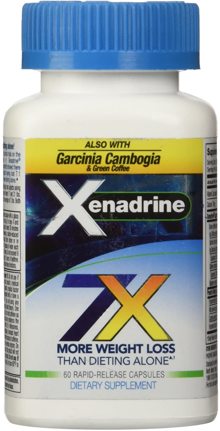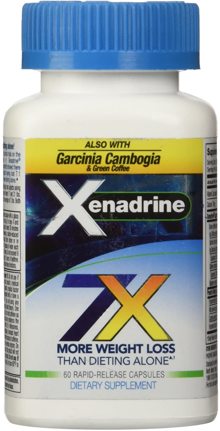 Xenadrine 7X Weight Loss Bonus Pack
(60 capsules + 60 capsules = 120 capsules)
2-Bottle Bonus Pack with Exciting New Formula!
Buy 1, Get 1 Free!
Xenadrine is a reliable brand for people looking to lose weight and boost energy. Now, the weight loss power of Xenadrine is available 
in a 2-bottle BONUS pack! The key weight loss blend found in Xenadrine (frauenmantle, wild olive, cormino, horsemint) helped subjects lose 
7 times more weight than dieting alone.1 The Xenadrine Bonus Pack also features an exciting new formula containing the in-demand
 ingredients garcinia cambogia, green coffee, and raspberry ketones.
---
Garcinia Cambogia
Found in geographic regions like Southeast Asia, Coastal India, and Central Africa, the citrus-sized, green, pumpkin-like superfruit has become
 widely popular in recent years.
---
Green Coffee
Made from the unroasted green beans of the Coffea canephora plant.
---
Raspberry Ketone
A compound found in red raspberries that provides the pint-sized fruit with its distinctive, one-of-a-kind aroma.
---
Energy for Hours
Xenadrinehas long been a brand synonymous with energy, and this formula really delivers! Xenadrinecontains a potent key 
ingredient (caffeine anhydrous [1,3,7-trimethylxanthine]) that you'll feel from the very first serving to power your busy days! 
---
Metabolic Intensifier
A potent key ingredient (caffeine anhydrous [1,3,7-trimethylxanthine]) has been scientifically shown to support increased metabolism.