Warning: This product is not currently available at any store.
Click the button above and PricePlow will email you when the first store has it in stock!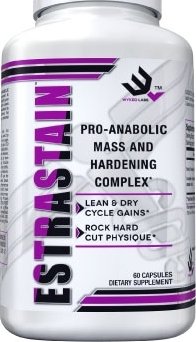 The Anabolic Gurus at Wkyed Labs have once again raised the bar
and created a new designer genetic equalizer that is gaurenteed to create crazy granite like muscle hardness and outrageous muscle growth. ESTRASTAIN is the real deal! ESTRASTAIN gives you a legal way to gain an edge over your competition and crushes your genetic limitations. Go beyond the average and unlock your monsterous anabolic potential with this unreal product.
What you get with ESTRASTAIN is a combination of designer agents
precisely dosed to infuse an anabolic avalanche. The two compounds found in ESTRASTAIN were strategicly placed together to create a synergystic anabolic explosion. Start off with the powerful Trenavar. This is the first pro hormone that actually converts directly to Trenbolone and is highly anabolic. This highly anabolic compound will create slabs of lean hard muscle. Estra-4,9,11-triene-3,17-dione is a form of Trenbolone and is one of the strongest injectable steroids on the market, so effects experienced from this LEGAL product ESTRASTAIN can be expected to be largely the same - huge strength and size increases, accelerated fat loss, and enhanced vascularity. Combine this with the proven granite like gains of EPISTANE and you have a solid product that you can count on to produce the gains you're looking for.

As you can see, this is an extremely strong product.
Although it will give you lots of size and strength it also does not completely shut down your libido. Be one of the first to carry this STRONG AND LEGAL anabolic powerhouse! As always you should be over 18 to use this product. We highly recommend taking additional liver guard products with and a P.C.T. when finishing the cycle. DO NOT TAKE MORE THAN 3 CAPSULES PER DAY OR STAY ON CYCLE FOR MORE THAN 4 WEEKS. ESTRASTAIN IS A POWERFUL PRODUCT AND SHOULD BE TAKEN WITH RESPECT.
ESTRASTAIN is the future for maximum lean
muscular hypertrophy in minimal time. Experience the real world results today! Experience the muscle hardness and density while you increase jaw dropping gains in strength and lean muscle. ESTRASTAIN is the Future
Lean & Dry Gains
Rock Hard Cut Physique
Pro-Anabolic Mass and Hardening Complex
Supplement Facts:
Serving Size: 1 Capsule
Servings Per Container: 60
Amount Per Serving
Estra-4,9,11-triene-3,17-dione 15mg
2a-3a-epithio-17a-methyl-5a-androstan-17b-ol 10mg
Other Ingredients: Gelatin, Magnesium Stearate, FD&C Blue #1, Red #3.
Suggested Use: Take 2 capsules daily for optimal results. Do not exceed 3 capsules in a 24 hour period.
Warning: Anabolic compounds are for experienced athletes and are not to be used by males under the age of 21 or women of any age. Consult with a licensed physician prior to use. DO NOT use if you are taking prescription medication, have high blood pressure, diabetes, heart disease, problems with your liver, kidneys, thyroid, or have any other ailments. Side effects may include increased aggression, hair loss, acne, sore joints, fatigue, loss of libido, elevated blood pressure, and/or elevated liver enzymes. DO NOT use for more than 4 weeks without an 8 week break between cycles. Athletes tested for performance enhancing substances should consult with their sanctioning body prior to use as this product may cause a falsely positive drug screening. Proper Post Cycle Therapy (PCT) protocol is REQUIRED immediately after discontinuing the use of this product. This product contains methylated compounds which are taxing on the liver. NO ALCOHOL should be consumed while using this product.
Note: Manufacturers continually change product specifications. While we try our best to keep product descriptions up to date, they do not necessarily reflect the latest information available from the manufacturer. We are not responsible for incorrect or outdated product descriptions and/or images.

These statements have not been evaluated by the Food and Drug Administration. This product is not intended to diagnose, treat, cure, or prevent any disease.