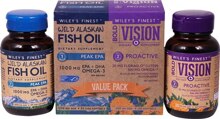 Wiley's Finest Wild Alaskan Fish Oil Peak EPA & Bold Vision Proactive - Value Pack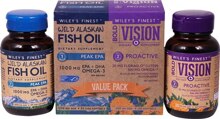 Wiley's Finest Wild Alaskan Fish Oil Peak EPA & Bold Vision Proactive - Value Pack
Wild Alaskan Fish Oil - Peak EPA/Bold Vision - Value Pack Description from Wiley's Finest
EYE HAVE A GOOD FEELING ABOUT THIS
-REDUCES digital eye fatigue and eye strain
-PROTECTS eyes from harmful effects of the sun and high-energy digital blue light
-STRENGTHENS eye tissue, specifically the macula

PERFECT WITH PEAK EPA!
EPA & DHA Omega-3 fatty acids found in seafood and fish oil are important for proper eye health. Bold Vision: Proactive is designed to be taken daily with our #1 best selling formula, Peak EPA.

THE PERFECT TEAM OF VISION NUTRIENTS
Designed especially for eye health, Bold Vision: Proactive delivers select nutrients in two small softgels. Featuring FloraGLO, the most clinically studied lutein, along with Omega-7 from Fish Oil, Anthocyanins from European Bilberry, and Astaxanthin from algae. Proactive nourishes eyes and supports healthy vision in adults of all ages.
Wild Alaskan Fish Oil
Supplement Facts
Serving Size: 1 softgel
Servings Per Container: 30
Ingredient
Amount
% Daily Value**
Calories
11
-Calories from Fat
11
Total Fat
1.2g
2
-Saturated Fat
0g
0
-Polyunsaturated Fat
1.1g
†
-Trans Fat
0g
0
Cholesterol
0mg
0
Concentrated Fish Oil
1250mg
†
-EPA (Eicosapentaenoic Acid)
750mg
†
-DHA (Docosaheaenoic Acid)
250mg
†
-Other Omega-3 Fatty Acids
60mg
†
** Percent Daily Value is based on a 2000 calorie diet. Your daily values may be higher or lower depending on your calorie needs.
† Daily Value not established.


Bold Vision
Supplement Facts
Serving Size: 2 softgels
Servings Per Container: 30
Ingredient
Amount
% Daily Value**
Calories
6
Total Fat
0.7g
1
Cholesterol
0mg
0
Concentrated Fish Oil
715mg
†
-Omega-7 (Palmitoleic Acid)
500mg
†
Lutein (Tagetes erecta)
20mg
†
Zeaxanthin (Tagetes erecta)
4mg
†
Astaxanthin (Haematococcus pluvialis)
2mg
†
Bilberry Extract (Vaccinium myrtillus)
57mg
†
-Anthocyanins
20mg
†
Zinc
11mg
100
Vitamin E
20mg
133
** Percent Daily Value is based on a 2000 calorie diet. Your daily values may be higher or lower depending on your calorie needs.
† Daily Value not established.


Contains Fish: Alaska Pollock (Gadus chalcogrammus).

DOES NOT CONTAIN: Sugar, Gluten, Starch, Yeast, Wheat, Dairy, Artificial Flavors, Artificial Colors, Nuts, Shellfish, Soy or Corn.


Ingredients:
Wild Alaskan Fish Oil: Concentrated Fish Oil, Omega-3 Ethyl Esters, Fish Gelatin, Glycerin, Purified Water, Certified NON-GMO Mixed Tocopherols (Natural Vitamin E)

Bold Vision: Concentrated Fish (Pollock) Oil containing Omega-7 Fatty Acid Ethyl Ester, Fish (Tilapia) Gelatin, Palm Glycerin, Purified Water, Identity Preserved NON-GMO Vitamin E (Sunflower), FloraGLO Lutein in Safflower Oil, Zeaxanthin in Safflower Oil, Zinc Picolinate, NON-GMO Mixed Tocopherols (Natural Vitamin E), Astaxanthin, Bilberry Extract, Sunflower Lecithin, Beeswax

Manufacturer's Directions
Wild Alaskan Fish Oil: As a dietary supplement, take 1 softgel daily with food.

Bold Vision: As a dietary supplement, take 2 softgels daily with food.

Manufacturer's Disclaimer
Do not use if safety seal is broken. Store in a cool, dry place. Consult your physician before using this product if you are using blood thinners or anticipate surgery. KEEP OUT OF REACH OF CHILDREN.




Be The First To Review This Product

Similar Products

BodyStrong


Omega-3 Fish Oil (Double Strength) 360 sgels

Our Price $17.99

BodyStrong


100% Pure Fish Oil (1000mg) 90 sgels

Our Price $4.99

Body First


Ultra Omega 3-6-9 120 sgels

Our Price $10.59

What is MAP?

MAP stands for "Minimum Advertised Price". The manufacturer of this product does not allow us to publish our selling price because it is less than the price they wish to see their product advertised at. To see your final price, simply click "Add To Cart". You can always remove it before checkout.

Added To Cart





View Cart and Checkout