Warning: This product is not currently available at any store.
Click the button above and PricePlow will email you when the first store has it in stock!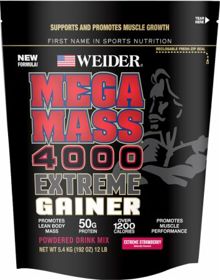 Weider Mega Mass 4000 | Coming Soon to

Giant Mega Mass 4000 is the ideal method to pack on pounds of rockhard mass. When you train hard, your body demands extra calories andprotein to recover faster. Intense programs require increased leancalories to support muscle growth and strength. Calories and proteins(amino acids ) are needed immediately after workouts and throughout theday to maximize protein synthesis in muscles. Giant Mega Mass 4000 has amountain of protein, complex and simple carbohydrates for energy,calcium for strong bones and creatine.

Giant Mega Mass 4000 has ahigh-quality protein blend from concentrated whey protein, casein, soyisolate and egg white. Mixing whey protein with casein optimizes uptakeof amino acids from these proteins to minimize premature breakdown ofamino acids caused by too rapid absorption. Creatine supports energyproduction during intense muscular activities. Giant Mega Mass 4000delivers the high quality calories and proteins you need to help youreach your optimal potential. When used as directed, Giant Mega Mass4000 adds up to 4000 additional calories per day to help you reachadequate calories and protein during intense training periods.