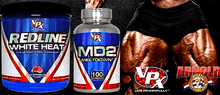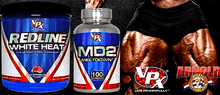 Coming in 2014 at the Arnold Sports Festival - Redline White Heat - The new pre workout supplement from VPX to be branded under the famous Redline name!
Not much is known, except it will likely be extremely high in energy - that's what Redline is known for - and there will be a watermelon flavor (judging from the picture).
Stay tuned and sign up for availability notifications and we'll contact you on the release date!