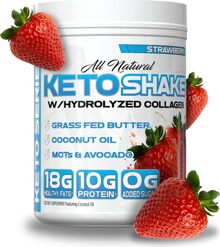 VMI Sports Keto Shake w/Hydrolyzed Collagen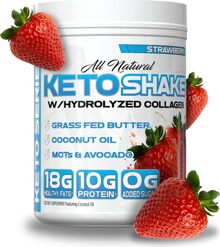 VMI Sports Keto Shake w/Hydrolyzed Collagen
VMI Sports Keto Shake 15 Servings
VMI Sports Keto Shake is great for those on the Keto Diet. Keto Shake can be used as an alternative to coffee creamer, or as a meal replacement shake. Keto Shake contains 18 grams of healthy fats, 10 grams of protein, and best of all, no sugar!
VMI Sports Keto Shake Benefits
Keto & Paleo Friendly Sports Shake
Contains Healthy Fats Necessary for Keto Diets
Delicious Flavors
Helps Kick Your Body Into Ketosis
Promotes Enhanced Energy & Focus
What Does VMI Keto Shake Do?
Satisfies Cravings & Reduces Hunger
Metabolism Support
Low Glycemic Keto Friendly Fuel
What is the Keto Diet?
A compressed version of what the Keto Diet is, the Keto diet is limited protein intake using fat as a lever, lots of water, lots of electrolytes. It involves eating only when you are hungry. Eating whole foods. And of course, exercise.
Can You Drink Coffee on the Keto Diet?
Traditionally, while on the Keto diet you can drink black coffee. A lot of people don't enjoy black coffee, which is what makes VMI Keto Shake so great, in addition to being used as a meal replacement shake, VMI Keto Shake can also be used as a coffee creamer alternative for those who don't like the taste of black coffee.
Do I Need to Be on the Keto Diet to Take Keto Shake?
Absolutely not. Keto Shakes can be enjoyed by anyone who's looking to add some healthy fats to their diet, or anyone looking to up their collagen intake.
How Do I Take VMI Sports Keto Shake?
For use as a coffee creamer alternative mix a single scoop into 8-10 ounces of coffee and stir well. As a meal replacement mix two scoops with 12-16 ounces of water, milk, or your beverage of choice and stir well.
VMI Sports Keto Shake Supplement Facts

Serving Size: 2 Scoops

Servings Per Container: 15

Calories 230

Total Fat 18g
Saturated Fat 16g

Trans Fat 0g

Polyunsaturated Fat 1g

Monounsaturated Fat 1g

Sodium 150mg

Potassium 30mg

Total Carbohydrate 3g

Dietary Fiber 0g

Sugars 3g

Protein 10g
Other Ingredients: Coconut Oil Creamer, Hydrolyzed Bovine Collagen, Premium Spray Dried Gum Arabic, Cocoa Powder, Natural Flavors, Xanthan Gum, Himalayan Pink Salt, Silicon Dioxide, Stevia, Flax Seed Powder MCT Oil Powder, Avocado Powder, Grass Fed Butter Powder, Monk Fruit.
VMI Sports Keto Shake Side Effects & Warnings
For use as a dietary supplement only by heathy adults of the age of 18 and over. Do not use this product if you are pregnant, nursing, or may become pregnant. Do not consume if you have a pre-existing medical condition, or you are taking any prescription medication. Please consult a physician prior to use. Use only as directed and do not exceed recommended dosage.
References
Masood W, Uppaluri KR. Ketogenic Diet. [Updated 2019 Mar 21]. In: StatPearls [Internet]. Treasure Island (FL): StatPearls Publishing; 2020 Jan-. Available from: https://www.ncbi.nlm.nih.gov/books/NBK499830/

Iacovides S, Meiring RM. The effect of a ketogenic diet versus a high-carbohydrate, low-fat diet on sleep, cognition, thyroid function, and cardiovascular health independent of weight loss: study protocol for a randomized controlled trial. Trials. 2018;19(1):62. Published 2018 Jan 23. doi:10.1186/s13063-018-2462-5
https://www.ncbi.nlm.nih.gov/pmc/articles/PMC5782363/