Quick Links to Best Prices Price History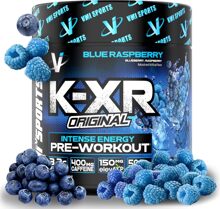 Intense Energy Pre-Workout: Extreme Mental Energy & Mental Focus!
K-XR is a high potency, high stimulant, extended energy pre-workout from the VMI BLACK SERIES. The Answer. The Solution. The never-ending energy powerhouse you have been waiting for. Never before has an ultra-concentrated pre-workout powder delivered this type of an engineered formula. A totally unique blend of botanicals carefully orchestrated to mount the strongest workouts.
K-XR is a high potency, K-XR is a high potency,
EXTREME ENERGY - 3 Sources of Caffeine for Extreme Energy & Norcoclaurine for Bronchodilation
SUPERIOR MENTAL FOCUS - Choline Bitartrate for Mental Focus & Cognition.
BETTER PUMPS & ENDURANCE - Theobromine for Enhanced Vasodilatation & L-Taurine for Muscle Hydration & Endurance.

FEATURING:

Intense Pump Blend made of Beta-Alanine, L-Taurine & Theobromine.
Maximum Energy Blend made of Caffeine Citrate, Caffeine Anhydrous, Infinergy DiCaffeine Malate, Norcoclaurine HCl & Rauwolfia Vomitora Extract.
Focal & Cognitive Enhancing Blend made of Choline Bitartrate & Huperzia Serrata Extract.
EXTREME ENERGY EXTREME ENERGY
SUPERIOR MENTAL FOCUS SUPERIOR MENTAL FOCUS
BETTER PUMPS & ENDURANCEBETTER PUMPS & ENDURANCE