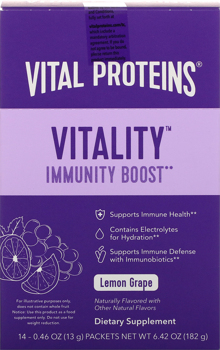 Vital Proteins Vitality Immune Boost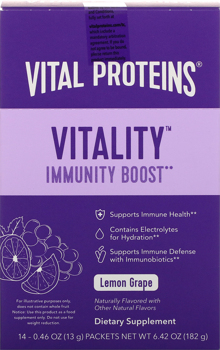 Vital Proteins Vitality Immune Boost
Vital Proteins - Vitality Immunity Boost Box Grape Citrus - 14 Packets (0.46 oz . / 13 g each)
Vital Proteins' new Vital Proteins Vitality Immune Booster stick packs are here to keep you at 100! This one-of-a-kind blend combines collagen, L-glutamine, vitamin C, zinc, and electrolytes with Wellmune and Immuno-LP20, two clinically-proven ingredients that help boost your immune system.
Whether you're looking for a proactive immune boost or just a little extra immune support for when you're having an off day, this supplement to help boost the immune system was created so you can conveniently incorporate these on-the-go stick packs into your daily wellness routine.
It's All About What's Inside:
Collagen
As the body's most abundant protein, collagen helps to support healthy hair, skin, nails and joints.

5g Collagen
May help position activated immune cells close to relevant target cells, thus helping to regulate the immune response.
Glycine
An amino acid found in collagen that helps regulate a healthy immune response.

Amino Acids
As the build blocks of protein, amino acids help regulate key pathways of the immune response.

2g L-Glutamine
Helps synthesize antioxidant glutathione.
500mg L-Arginine
Required to support both the innate and adaptive immune systems.
50mg L-Tryptophan
May help regulate an overactive immune system.

Antioxidants
Antioxidants help protect cells against the effects of free radicals, which can damage cells.

500% DV Vitamin C
Helps boost the production of collagen, a structural protein that supports the connective tissue in the body.
200% DV Zinc
Helps support antioxidant protection.

Electrolytes
Electrolytes play many roles in the body, ranging from supporting fluid balance to energy balance and immune system support.

500mg Sodium
Supports fluid and electrolyte balance, and nerve and muscle function.
50mg Magnesium
Regulates muscle and nerve function, and makes protein, bone and DNA.
400mg Potassium
Helps maintain healthy nerve function and fluid balance.

B Vitamins
Ensures the body's cells, like immune cells, function properly.

100% DV Vitamin B6
Supports reactions that help regulate the immune system.
200% DV Vitamin B12
Aids in the production of cells involved in immune response.
50% DV Niacin
Important for the development of cells.

Innovative Ingredients
Innovative ingredients that are clinically proven to support the immune system.

250mg Wellmune
Helps improve general immune health without overstimulating the immune system.
50mg Immuno-LP20
Sparks cell production involved in immune defense in the small intestines.
What Is This Immune System Booster?
This supplement that helps boost the immune system features clinically-proven, cutting-edge ingredients, like Wellmune and Immuno-LP20. It's the only product on the market that also boasts collagen, vitamin C and electrolytes.
When Should I Take It?
We recommend adding Vital Proteins Vitality Immune Booster to your daily routine. Just add cold or warm water.