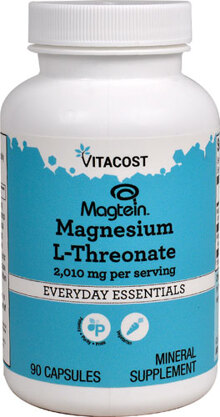 Vitacost Magtein Magnesium L-Threonate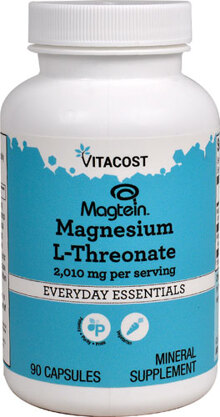 Vitacost Magtein Magnesium L-Threonate
Magtein Magnesium L-Threonate Description
NEW, patented and clinically studied form of magnesium developed by MIT scientists.

What is Magtein Magnesium L-Threonate?
Magnesium is a mineral found abundantly throughout the body. Besides being necessary for more than 300 biochemical reactions, magnesium is involved in many important functions—from protein production and energy metabolism to cardiovascular and bone health.*
Foods such as leafy greens and nuts are especially good sources of magnesium, and it's also found in whole grains, legumes, seeds, other vegetables, dairy and meats. It's believed, however, that most people don't consume enough dietary magnesium and may benefit from supplementation.
Magnesium L-Threonate features a patented form of magnesium known as Magtein. Magtein has been clinically studied for its potential absorption advantages compared to other forms of magnesium.
What are the key benefits of Magtein Magnesium L-Threonate?
Important for healthy bones*
Supports cardiovascular health*
Helps maintain blood pressure already within normal range.*
Helps maintain normal muscle and nerve function*
Involved in protein synthesis and energy production*
Contributes to calcium absorption*
Why is Magtein Magnesium L-Threonate is your everyday essential?
Features a patented, clinically studied form of magnesium: Magtein
Supplies 2,010 mg of magnesium L-threonate per 3-capsule serving
Contains 30 servings per bottle
Suitable for vegetarians
Better value than other magnesium L-threonate products on the market
Potency • Purity • Pride
All supplements are formulated to deliver the level of support you expect and deserve. Whether you're shopping vitamins, minerals, herbs or other key nutrients, their potency is guaranteed – what's on the label is what's in the bottle. Plus, all supplements adhere to the FDA's Current Good Manufacturing Practices (CGMPs), ensuring that they are manufactured to high standards of POTENCY, PURITY, efficacy and safety. We take PRIDE in what we do, which is why we promise if you don't love your product, we'll take it back – even if the bottle is empty.
About Brand
The search is over. Brand supplements are focused on helping you create a strong foundation with simple, transparent formulas that support – and easily fit into – your daily life. Whether it's Everyday Essentials you're looking for or Targeted Wellness support, Brand supplements offer the high-quality solution you need at the value price you deserve. We continuously look for ways to improve technology, processes and ingredients, so you feel confident about what you're putting in your body or giving to your family. And it's all right here, at .com.
Directions


As a dietary supplement, take 3 capsules daily with food or as directed by a healthcare professional.

Keep dry and at room temperature (59° - 86°F [15° - 30°C]).
Free Of Milk, eggs, peanuts, tree nuts, crustacean shellfish, fish, soy, gluten, titanium dioxide.