Quick Links to Best Prices Price History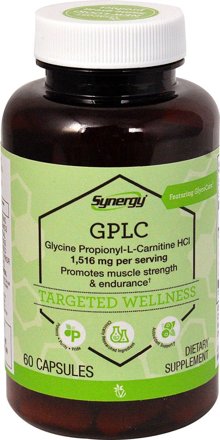 Vitacost GPLC Glycine Propionyl L-Carnitine HCl
GPLC Glycine Propionyl L-Carnitine HCl-GlycoCarn 1000 mg PLC per serving Description
Amino acid supplement that supports healthy energy levels, combats muscle fatigue and promotes cardiovascular wellness.* 
What is  GPLC Glycine Propionyl-L-Carnitine HCl?

GPLC Glycine Propionyl L-Carnitine HCL is a dietary supplement featuring a patented form of carnitine called GlycoCarn. Carnitine is an amino acid that plays a crucial role in muscle function.* GlycoCarn is molecularly bonded to glycine, a transmitter that allows quick penetration into muscle, heart and endothelial cells to help fight muscle exhaustion and promote cardiovascular wellness.*
How does GPLC Glycine Propionyl-L-Carnitine HCl support health?
Encourages muscle strength and endurance.*
Boosts carbohydrate metabolism.*
Helps reduce lactic acid buildup.*
Provides powerful support for peripheral arterial blood flow.*
Supports healthy energy levels.*
Works with acetyl L-carnitine to promote sexual health in aging males.*
Has antioxidant properties that help protect against free radical damage.*
Why choose  GPLC Glycine Propionyl-L-Carnitine HCl?
Delivers a patented form of carnitine that is quickly absorbed and utilized.
Exceptional quality at an extraordinary value.
About
nutritional products are manufactured to high standards of quality, efficacy and safety. Each product meets or exceeds the standards and requirements set forth in the FDA's Code of Federal Regulation (21 CFR, 111) Current Good Manufacturing Practices (CGMP).
*These statements have not been evaluated by the Food and Drug Administration.  This product is not intended to diagnose, treat, cure or prevent any disease.
Directions


As a dietary supplement, take 2 capsules daily on an empty stomach or as directed by a physician.

Store in a cool, dry place.
Free OfMilk, eggs, peanuts, tree nuts, shellfish, fish, soy, gluten, titanium dioxide.