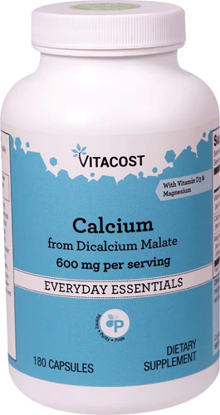 Vitacost Calcium from Dicalcium Malate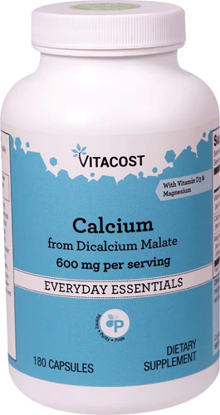 Vitacost Calcium from Dicalcium Malate
Calcium from Dicalcium Malate 600 mg per serving with Vitamin D3 & Magnesium Description
Promotes healthy bones and supports proper functioning of body systems.

What is Calcium?
Calcium (from Dicalcium Malate) features a form of calcium that is chelated, or bonded, with malic acid. Chelated minerals are believed by some to be better absorbed and utilized by the body than non-chelated minerals.* In addition, malates do not react with stomach acid in the same way as more common carbonates (which can sometimes cause digestive discomfort).*
This unique combination formula also includes vitamin D3, a form considered superior to vitamin D2, and magnesium.

What are they key benefits of Calcium (from Dicalcium Malate) with Vitamin D3 & Magnesium?
Calcium is an essential ingredient of bone that must constantly be replenished.*
Vitamin D contributes to bone strength, as proper levels create optimum conditions for bone formation.*
Vitamin D supports the proper functioning of the nervous and immune systems.*
Magnesium helps build strong bones by converting vitamin D to its active form and setting in motion key enzymes that stimulate bone cells.*
Magnesium contributes to calcium absorption.*
Magnesium helps maintain normal muscle and nerve function.*

Why is Calcium (from Dicalcium Malate) with Vitamin D3 & Magnesium your everyday essential?
Provides a combination of minerals and vitamin D in one convenient formula.
Supplies 600 mg of calcium per 3-capsule serving.
Features vitamin D3, which is considered superior to vitamin D2.*
Contains 60 servings per bottle.
Exceptional quality at an extraordinary value.

Potency • Purity • Pride
All supplements are formulated to deliver the level of support you expect and deserve. Whether you're shopping vitamins, minerals, herbs or other key nutrients, their potency is guaranteed – what's on the label is what's in the bottle. Plus, all supplements adhere to the FDA's Current Good Manufacturing Practices (CGMPs), ensuring that they are manufactured to high standards of POTENCY, PURITY, efficacy and safety. We take PRIDE in what we do, which is why we promise if you don't love your product, we'll take it back – even if the bottle is empty.
About Brand
The search is over. Brand supplements are focused on helping you create a strong foundation with simple, transparent formulas that support – and easily fit into – your daily life. Whether it's Everyday Essentials you're looking for or Targeted Wellness support, Brand supplements offer the high-quality solution you need at the value price you deserve. We continuously look for ways to improve technology, processes and ingredients, so you feel confident about what you're putting in your body or giving to your family. And it's all right here, at .com.
Directions


As a dietary supplement, take 3 capsules with food daily, or as directed by a healthcare professional.

Keep dry and at room temperature (59°-86°F [15°-30°C]).
Free Of Milk, eggs, peanuts, tree nuts, crustacean shellfish, fish, soy, gluten, titanium dioxide.