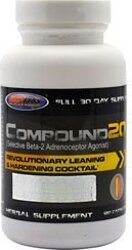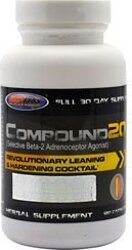 What is Compound 20?
Compound 20 by USP Labs is a fantastic hardening and leaning supplement made from all natural ingredients. It has been created to transform your overall body composition in addition to increasing strength and definition. C20 only contains three simple, yet powerful, ingredients. It doesn't need to have a million ingredients to build all the muscle you could ever want. USPLabs has created Compound 20 to help you harden muscles, gain mass, and burn unwanted fat. How often do you find a supplement that can provide all three of these benefits? It's pretty rare. As a bodybuilder and fitness freak, you would be out of your mind if you didn't make C20 the first supplement in your stack. It's just that good.
If you have read the product descriptions about Compound 20, you may have been a little confused. Rest assured, the product has passed with flying colors. All of the beta testers have come back with raving reviews, and with good reason. One of the most common things that was said about C20 is that it helps shed the fat regardless of the diet you're on. Compound 20 isn't even promoted as a fat burning supplement, nor does it have any stimulants in it. It just seems to melt the fat off your body like nothing else around.
The muscle mass and strength gains seen were just as unbelievable. People were losing fat and gaining muscle during a maintenance bulk. In fact, it worked best for people in heavy bulking and weight gaining cycles. They were eating and drinking like maniacs and somehow still burned off the fat. As far as strength gains, well, most people were seeing the same gains as if they were on a hormonal supplement. Remember, C20 is all natural and stimulant free, so these kinds of gains are truly amazing.
Beta testers were probably most impressed by the increased energy and endurance they got from a stimulant free supplement. It's an explosive type of energy, not just a quick boost. You will be training at a higher level than ever before. C20 will make the transition off of stimulant cycles seamless and completely eliminate any withdrawal type symptoms.
Stacking USPLabs Compound 20
Now, to get the best results from USP Labs Compound 20, you're going to want to stack it with another supplement. Jack3d should be that supplement. It is the most superior nitric oxide pre-workout supplement on the market. Also created by USPLabs, Jack3d has been formulated for pumps like you have never seen before. The energy that it provides to you will keep you going without a nasty crash when it wears off. Jack3d increases your endurance so that you can stay in the gym longer and see benefits faster. Your focus will skyrocket so that you are in the right mindset for that massive strength and muscle gains that it can bring you. Jack3d is the real deal.
USP Labs Compound 20 is completely safe. Check out some of the additional benefits:
Non-hormonal supplement Burns fat like crazy, without the drug-like after effects It has nutrient repartitioning properties without affecting insulin levels It's a stimulant free supplement, which means you can stack it with Jack3d for a next-lever, super intense workout. Users of C20 are breaking personal records like never before.
The biggest benefit on this list is that Compound 20 is so easily stacked. Since it is stimulant free, the obvious choice for a stack is Jack3d. The combination of these two supplements will provide you with an experience that you've wanted you're entire life. You'll burn fat. You will gain lean and defined muscle mass. Your focus, energy, and endurance will keep you moving forward no matter what. Your sex drive will make you feel like you're in college again. This is the stack that you want to have.
Compound 20 Ingredients
USPLabs Compound 20 only has 3 ingredients. That's it. It's all you need. The first ingredient we'll talk about is N-Coumaroyldopamine. Its function is to increase cAMP levels via beta 2-adrenoceptors. USPLabs were the first to successfully extract this compound from cocoa and place it in a supplement in a way that was safe. It wasn't until people started taking the supplement that they realized how powerful the beta-2 agonists really were. They are providing the same result as prescription drugs in a safer way. N-Coumaroyldopamine also increases the amount of mTOR that gets activated in the body. It is a type of protein kinase that regulates growth, protein synthesis, and hypertrophy.
The next ingredient is N-Caffeoyldopamine. This is very similar to the first ingredient. It actually does everything that N-Coumaroyldopamine provides. N-Coumaroyldopamine is hard to come by, so N-Caffeoyldopamine is used to get the ingredients to a level where they need to be.
The final ingredient of Compound 20 is Symplocos Racemosa Extract. This is the first ingredient listed, so there is a higher amount of it than the other two ingredients. This is what is providing all the nutrient partitioning properties of C20. It makes you super thirsty and you absolutely need to take it with carbs. What Symplocos Racemosa does is stops the cAMP from degrading. This makes it last longer. It is also standardized for triterpenoids. In this case, they are ursolic acid, oleanic acid, and betulinic acid.
Compound 20 Side Effects
Because C20 is all natural and contains so few ingredients, there are very little side effects to be discussed. Some side effects are actually wanted by users. Most users describe a massive hunger and thirst, which is generally a good thing when trying to bulk up. As your muscles increase in size, your body is going to natural have an increased appetite to keep up with the pace.
You're going to be drinking more water than you ever thought was possible. This means is that C20 is working in your system. What's actually happening is that 2.7g of water is shuttled to the muscle tissue for every carb that is stored as glycogen. So, if your body is telling you to drink, make sure you listen.
Another side effect that most users experienced was a huge increase in libido. Yes, your sex drive will be through the roof. C20 will put you in the mood for sex and increase your drive like never before. Be ready for this!