Warning: This product is not currently available at any store.
Click the button above and PricePlow will email you when the first store has it in stock!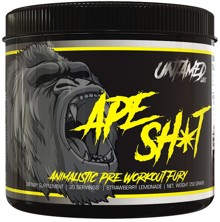 Delivers Intense Workouts, Insane Pumps, And Loads Of Energy!
Delivers Intense Workouts, Insane Pumps, And Loads Of Energy!
Delivers Intense Workouts, Insane Pumps, And Loads Of Energy!
Ape Sh*t by Untamed Labs is a high energy high stimulant pre workout rush designed and formulated to deliver intense workouts, insane pumps, and loads of energy from beginning to end.

BETA ALANINE

Beta Alanine is a non essential amino acid that is used by muscle cells to synthesize carnosine. Carnosine is a dipeptide that functions as a buffer for the hydrogen ions (acid) produced during strenuous exercise, thus helping to maintain optimum muscular pH. Thus the utilization of Beta Alanine delivers an increase in muscular endurance helping you get the most out of your workouts each and every time.

AGMATINE SULFATE

Agmatine itself is naturally produced in the body by the breakdown of arginine. Oddly the studied effects of agmatine not only appear to mimic those of its parent compound arginine, but in many cases, surpass it. These effects include an increase in localized bloodflow, dilation of the vasculature, and increased nutrient delivery. The use of Agmatine Sulfate can be explained very simply, it helps you the end user get a ton of blood into the working muscle and creates a skin tight pump.

DMHA

DMHA is part of a new wave of stimulants hitting the market, and by far the most popular by consumers. The compound works very similar to those old stimulants that are now long gone and unmentioned. It helps to increase the bodies temperature just slightly, loads the receptors, and fires out a very hard hitting and even level of stimulation for the body. Think of it as a caffeine shot on overdrive.
Ape Sh*t hard hitting energy, intense workouts, sking splitting pumps delivering each and every workout, beginning to end.
Ape Sh*t by Untamed LabsBETA ALANINEBeta AlanineAGMATINE SULFATEAgmatineDMHADMHA
Note: Manufacturers continually change product specifications. While we try our best to keep product descriptions up to date, they do not necessarily reflect the latest information available from the manufacturer. We are not responsible for incorrect or outdated product descriptions and/or images.