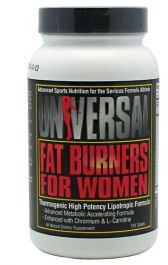 Universal Fat Burners for Women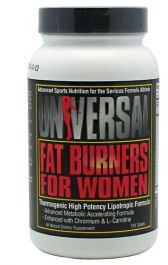 Universal Fat Burners for Women
Women Only Fat Burners from Universal is an incredible nutritional advantage for supplementing any woman's weight and fat reduction program. This scientifically-balanced formula contains the three powerful nutrients Choline Complex, Inositol, and Chromium Picolinate. Plus L-Carnitine, dl-Methionine, and Betaine HCL have been added for enhanced metabolic effect and increased energy.

Supplement Facts:

Serving Size: 3 Tablets
Servings Per Container: 40

Amount Per Serving % Daily Value

Vitamin B6 2 mg 100%
Choline Complex 620 mg
Inositol 310 mg
Chromium Picolinate 150 mcg
Chromium Polynicotinate 100 mcg
L-Carnitine Complex 20 mg
White Willow 100 mg
Damiana 100 mg
Cascara Sagrada 100 mg
Uva Ursi 100 mg
Cayenne 10 mg
Gota Kola 100 mg
Kola Nut 100 mg
Psyllium Fiber 1200 mg
Betaine HCL 60 mg
Potassium Phosphate 60 mg
DL-Methionine 50 mg
Lecithin 100 mg
Linoleic Acid 25 mg
Oleic Acid 25 mg

Percent Daily Values are based on a 2,000 calorie diet.

Daily Value not established.

Suggested Use:
As a dietary supplement, take 1 tablet 3 times daily with meals, or as directed by a Healthcare professional.

Warnings:
Please consult your physician before starting any exercise or nutritional program.

These statements have not been evaluated by the Food and Drug Administration. This product is not intended to diagnose, treat, cure, or prevent any disease.