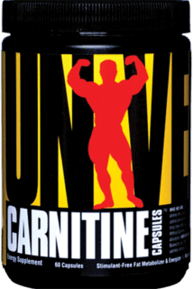 Universal Carnitine Capsules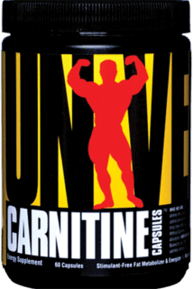 Universal Carnitine Capsules
If you would rather get our high quality carnitine in form other than liquid, now theres Carnitine Capsules. Each serving of Carnitine Capsules provides 500mg of the purest L-carnitine available. Other than enhancing athletic performance and promoting cardiovascular health, L-carnitine can help with obesity. At least thats what a recent study has shown. A Chinese study published in Acta Nutrimenta Sinica has found that 2g of L-carnitine (or 4 Carnitine Capsules) per day along with exercise and dietary modifications produced a significantly greater weight reduction than those without the supplementation. It is important to note the distinction between L-carnitine and D,L-carnitine however. The two are not the same, and the latter can potentially be toxic. Always choose L-carnitine. Up to two to three grams of L-carnitine can be used safely by adults on a daily basis.

Supplement Facts:

Serving Size: 2 Capsules
Servings Per Container: 30

Amount Per Serving:
Carnitine 500mg

Other Ingredients:
L-carnitine tartrate, dicalcium phosphate, whey, stearic acid, silicon dioxide, magnesium stearate.

Recommended Use:
Take 2-4 capsules per day, 30-60 minutes prior to your workout.

These statements have not been evaluated by the Food and Drug Administration. This product is not intended to diagnose, treat, cure, or prevent any disease.