Warning: This product is not currently available at any store.
Click the button above and PricePlow will email you when the first store has it in stock!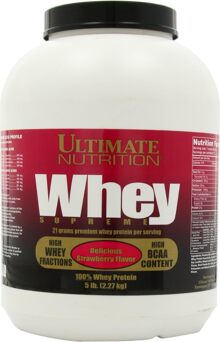 Ultimate Nutrition Whey Supreme
Body builders take protein
powders to develop muscles. Weight lifters take extra protein to help them get stronger. People who are underweight take protein to gain weight. As people age, in general, they tend to lose weight. Protein is an excellent source of gaining weight in cases of both nutritional deficiency and weight loss for unknown reasons and, particularly, due to advancing years. Proteins are used in the production of skin, hair, muscles and bones. In addition, protein is used to manufacture hormones, enzymes, cellular messengers, and immune system components. Without adequate protein, the body does not have the ability to put cells, tissues and organs together.
Despite the central role played by proteins in all life processes, it is only recently that researchers have begun to understand the role of certain dietary proteins in muscle toning, immune enhancement and, in fact, in longevity. One particular protein has garnered considerable attention that is found in all milks called whey, which is processed to transform into whey protein concentrate. Ultimate Nutrition's Supreme Whey is the whey protein.
Whey protein has long been recognized as the best means to repair tissue and to build muscle. Whey protein is a complete cocktail that contains all the essential and nonessential amino acids, and is also a rich source of branched-chain amino acids. Whey protein boosts the secretion of growth hormone naturally, which is promptly metabolized into insulin-like growth factor, IGF-1.One of the greatest benefits of whey protein is that it improves immune function and, notably, elevates cellular glutathione levels.* Glutathione is one of body's own potent antioxidants. Furthermore, glutathione is a detoxifying agent that neutralizes free radical metabolites and prevents lipid peroxidation of the cell membrane, which if left unchecked could break the cells open.
Ultimate Nutrition's Supreme Whey is obtained by a special procedure called ultrafiltration to ensure that all micro-ingredients are recovered. It is highly soluble, and is readily dissolved in nutritious fluids for maximal absorption in the body to provide natural support to build muscle and boost the immune system.
FREQUENTLY ASKED QUESTIONS
What is Whey Protein?
Cow's milk contains roughly 6% protein of which 80% is casein and the remaining 20% is whey. Usually, the term "whey protein" describes the milk proteins that remain after cheese is made from the casein in milk. Whey protein is comprised of four major and six minor protein fractions. The major fraction contains proteins beta-lactoglobulin, alpha-lactalbumin, serum albumin and immunoglobulins.
How Do You Determine the Quality of a Protein?
The most commonly used criterion to measure the quality of a protein is its Biological Value (BV), which is the amount of nitrogen (body protein) that can be replaced by 100 grams of protein in the adult diet. Simply put, it means that the higher the protein's biological value, the higher its nitrogen retention. Practically speaking, proteins with high BV are the more potent muscle-building, growth-promoting proteins.*
How Well is Whey Protein Absorbed?
Upon ingestion, whey protein exits the stomach fairly quickly -in fact, much better than other proteins.* Consequently, it is readily taken up in the bloodstream through the intestines. This ensures a substantial rise in blood amino acid levels in a short period of time, which is important during exercise and recovery.*
In What Fluids is Whey Protein Easily Dissolved?
Whey protein readily dissolves in water. Therefore, it can be mixed with any nutritious fluids, such as fruit juices.
How Much Fat and Sugar Does Whey Protein Contain?
Even though it is derived from milk, whey protein is essentially free of both fat and sugars normally found in the milk. Numerous methods used to distill whey into a high quality powder removes fat and sugar from it.